This Unique Contractor Scoring System Selects the Best EV Charging Station Installers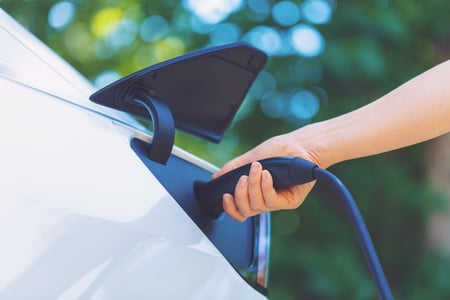 The ABC's of EV charging stations and installation options.
The "energy revolution" has electric vehicle (EV) charging station installers working overtime.
In fact, many government and industry leaders in the United States support the continued development of a nationwide charging station network. In 2018, New York Governor Andrew Cuomo touted a $4.2 million EV charging station program for the New York Tollway. This development made it possible to drive across New York State with one charge from a convenient roadside station.
Wal-Mart recently announced that 120 stores now offer charging stations. We can expect Wal-Marts across the country to eventually become go-to providers of EV recharging. In addition, services such as Plugshare make it easy for EV drivers to find a place for recharging their batteries while on the move.

Charging stations are not created equal
The increase in public charging stations makes long-distance EV travel possible, but as EV drivers know, charging at home remains essential. Today, EV owners have a choice between level one and level two charging.
Level one chargers plug into a typical 120-volt home outlet and require no installation. However, EV drivers are finding they charge too slowly, which causes inconvenience and can limit trip range.
Level two chargers can fully charge most batteries within a few hours. For example, a level two charging station can fill the battery of a Jaguar iPace in just 80 minutes, which provides a 234-mile range. With a level one charger, it takes 20 hours to fully power the iPace.
As 200-mile+ batteries are now available, level two charging stations are becoming a necessity. There's little point in a 200-mile-range EV if it takes two days to charge the battery. A level two charging station is absolutely necessary for longer range EVs.
Level two charging stations require installation by a professional electrician. They must plug into a 240-volt outlet, which often needs to be installed in the area where the vehicle will be parked. Level two installers are licensed and insured. They can set up the station safely, ensure optimum function and handle any future repairs.
Most level two charging stations fall into the $500 to $1,000 range, but the prices depend on the charger model and options. Installation costs range from $750 to $1,750.
Installations usually cost less when a home already has excess electrical capacity and the electrical panel is located close to where the vehicle will charge. When the power system needs upgrading and extended lengths of conduit must be laid to reach the charging location, costs tend to be higher.

Choosing the best installer for your home EV charger
When an EV owner needs an installer in their area, it's hard to know where to find one, who is qualified and if the install price is reasonable.
Qmerit makes it easy. Qmerit enables EV consumers to quickly get up to three competitive quotes from experienced EV charging station installers who are all licensed electrical contractors with completed background checks and certifications.
To start the process, visit Qmerit's EV website and fill out some basic information. Qmerit then sends an EV Home Readiness Survey to your smartphone so you can take pictures of your desired charger location and answer a series of questions. This eliminates the need for you to answer the same questions from multiple contractors. In many cases, the survey results allow installers to provide a quote without visiting the home.
In addition, Qmerit uses the power of artificial intelligence (AI) to continuously score installers based on their responsiveness, reliability, certifications, customer satisfaction and job performance so only the highest performing installers receive quote requests.
Qmerit charges no fees and customers are in complete control to select their preferred installer. They contract directly with their chosen installer and Qmerit does not mark up their quote. EV and charging station manufacturers actually offer Qmerit's service to their customers on a complimentary basis.
EV manufacturers that use Qmerit's installers include Chevrolet, BMW, Jaguar, Land Rover and MINI. EV charging station manufacturers that work with Qmerit include ChargePoint, Electrify America, Enel X and Flo. These companies understand the importance of finding trustworthy and reliable charging station installers - and trust in Qmerit's unique installer scoring algorithm.
The advancement and proliferation of electric vehicles may one day make the combustion engine obsolete. Therefore, home charging stations will be critical to the industry and the growth of the EV market.
Qmerit will help to pave the way for the future of electric vehicles.