4 Ways to Save Time and Money Managing Your Contractors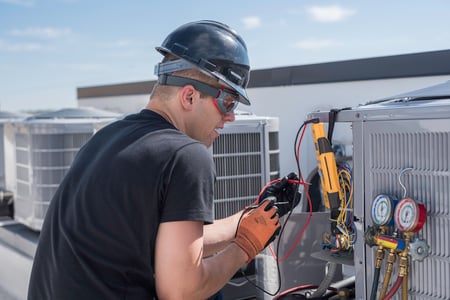 Your building's HVAC unit is on the fritz. You make a phone call to have a contractor come out as soon as possible, but he already has some other urgent jobs lined up. Once he comes out, he tells you that you need a special part—and it has to be ordered. To top things off, it's a CapEx repair that you need to put out to bid. Meanwhile, your property manager has to devote valuable time to placating upset residents as your bid process drags on.

Sound painfully familiar? The whole experience is needlessly stressful and time-consuming.
But it doesn't have to be. You could be saving significant money and time on this project. How? Technology should be working for you, not against you. A user-friendly, contractor management and procurement platform not only gives you the best possible bids from skilled, trustworthy contractors, it helps you extend volume discounts even further for maximum savings.
Here are four ways a contractor management platform should be making your job easier:
1. Contractor Management
The right system will digitize and automate the onboarding process, allowing you to specify the compliance, training, and documentation requirements your service providers need to upload electronically. This makes it quick and easy for contractors to sign up, while eliminating much of your company's administrative burden. No more back and forth!
2. Automated Compliance
Ensuring all contractor documentation is current can be extremely challenging and time-consuming; a good system streamlines that process. Once contractors have been onboarded, you should be able to set notifications to go out automatically when credentials are about to expire. This eliminates human error and ensures service providers are always qualified to work.
3. A Digitized 3-Bid Process
When you need bids from skilled and reliable contractors in a hurry, a digitized process is essential. Your system should allow you to post a job scope to receive at least three bids from your contractor network. In addition, those bids should give you context with a scoring system that rates contractors based on their past performance and feedback from other clients. Contractors should never be an unknown quantity!
4. A Knowledge System Library
Do your employees spend valuable time managing vendors and answering contractors' questions? An online repository allows contractors access to the information they need so your employees are only called in when it's absolutely necessary. Your company should be able to upload training videos, pictures, documents, and instructional manuals so all documentation is easily accessible and searchable by topic. This also makes it easier and faster when your contractor brings on a new technician.
If you're thinking you need a contractor management system to more effectively manage your network, check out the Raiven Contractor Management platform. It is a user-friendly, cloud-based platform specifically designed for the needs of owners, managers, and operators of commercial and multifamily properties.
Not only that, all contractors are rated based on our proprietary Raiven Contribution Index™ (QCI), a continually updated score based on past performance, callback rates, procedural compliance and more.
If you'd like to learn more, please feel free to get in touch.
P.S. - If you're interested in saving 7% to 25% on parts and materials, our group purchasing program can save you and your contractors significant money – learn more.