Benefits of Vinyl Plank Flooring for Multi-family Properties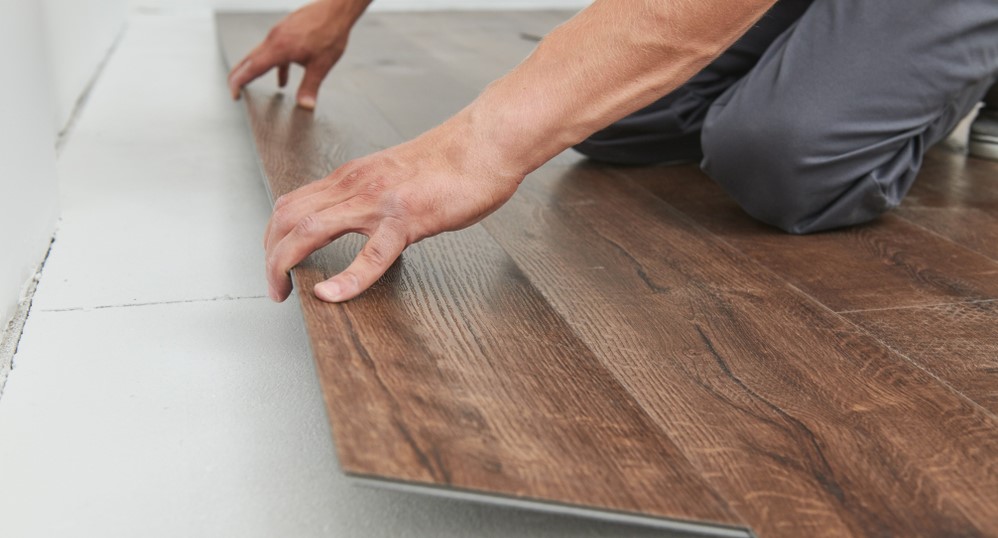 Author: Tim Moegen
July 21, 2023 - 4 MIN. READ


Multi-family properties see a lot of foot traffic and require floors that can take it. As a result, vinyl plank flooring (VPF) has become an increasingly popular flooring option for property managers.
VPF is an excellent choice for multi-family properties due to its durability, affordability, and low maintenance. In addition, it is a versatile flooring option that can mimic the look of hardwood, tile, or stone.
Benefits of vinyl plank flooring for multi-family properties
Property owners have several options when considering flooring. The benefits of VPF make choosing it an easy decision. Here is why it has become a popular option for multi-family properties.
Durability
VPF is highly durable and resistant to scratches, dents, and stains. If any portion of the floor is damaged, that section can be easily removed and replaced. Because it can withstand heavy foot traffic and wear and tear, VPF is an ideal choice for multi-family properties where tenants are constantly coming and going.
Stain resistance
Property owners know one of the most significant drawbacks of carpeting is the way a few stains can require new installation for an entire room. In multi-family properties, stains are unavoidable. Messes can quickly happen with pets or small children. Accidents such as a dropped bottle of wine, a jar of tomato sauce, or a can of oil may leave a permanent stain.
From year to year, the cost of carpet replacement can amount to a costly investment. But as VPF is resistant to even the strongest-staining liquids, its resiliency results in cost savings.
Noise reduction
Multi-family properties can be noisy spaces. VPF is excellent for sound absorption, so it helps reduce sound transmission and quiet rooms. This can be especially important for properties with shared walls or floors, as it can help reduce tenant noise complaints. In addition, creating a more tranquil and peaceful living environment for tenants makes it more likely that they will stay in the property long-term.
Affordability
VPF is incredibly budget-friendly, typically less expensive than traditional carpeting, and is much more affordable than hardwood or tile.
Many multi-family properties opt for carpeting, thinking it's easier on the wallet. However, while carpet can average $2.50 per square foot, there is also the additional cost of padding, which tacks on approximately another 60 cents per square foot.
VPF costs approximately $2 per square foot. This makes it an excellent choice for property managers looking to renovate or upgrade their properties without breaking the bank.
Easy installation
VPF is simple and relatively inexpensive to install. It comes conveniently boxed instead of the large rolls of carpeting or vinyl flooring that can sometimes require a team to haul. VPF does not need a subfloor and can be placed over an existing floor. It is easy to cut, snaps together end-to-end, works well on stairs, and does not require glue or nails. Installing VPF in a moderate size room can be completed within a few hours.
Low maintenance
Easy to clean and maintain, VPF only requires regular sweeping and mopping. In addition, unlike hardwood floors or carpeting, which can require regular polishing, steam cleaning or deep cleaning, there is no need to wax, polish, buff, or seal VPF. This means that property owners and managers can save time and money on cleaning and maintenance costs.
VPF that receives proper care can last upwards of 10-20 years. Some products even offer warranties of up to 15 years.
Moisture resistance
There's also no cause for concern about the floor buckling if water is not cleaned up immediately. VPF's high resistance to moisture makes it an ideal choice for properties located in areas with high humidity, frequent rain, or near the beach. In addition, because it is so resistant to stains and spills, VPF is an ideal choice for bathrooms, kitchens, laundry rooms, and high-traffic areas such as lobbies, hallways, and common areas.
Safety
Unlike tiles or traditional hardwood floors, VPF is slip-resistant, making tenants or guests less likely to slip and fall. Investing in the safest surfaces reduces liability and helps prevent the possibility of a costly lawsuit.
Versatility
Whether a property is going for a traditional, modern, or eclectic look, VPF can be customized to fit any design style. There is no need to sacrifice beauty simply because you choose a more cost-effective flooring option.
VPF is available in a wide range of colors and patterns, allowing property managers to customize the look of their properties to suit their specific needs. Some styles can also mimic the look of hardwood, tile, or stone. Because they look like the material they are simulating, it is possible to fit into any décor and provide a high-end look without a hefty high-end price tag.
Moreover, VPF is available in various sizes and shapes, including wide planks, narrow planks, and tiles. This versatility allows property owners and managers to create unique and visually stunning flooring designs that can help attract and retain tenants.
How Raiven can help
Because VPF is an excellent choice for multi-family properties due to its durability, affordability, low maintenance, and versatility, designers love it. Big brands are getting into the VPF game. For example, Mohawk, a big brand known for its carpets for nearly 100 years, now manufactures and sells vinyl flooring. Shaw, best known for hardwood floors, has also expanded to include VPF products. And Sherwin Williams, a well-known and respected brand in the paint and coatings industry, has recently begun selling VPF. Their entry into the market indicates confidence in the durability and quality of the product. And you can get the best prices on VBF through the Raiven Marketplace.
Raiven serves multifamily property owners and managers by providing the lowest prices on equipment, parts, and maintenance supplies, as well as a purchasing platform that makes buying fast and efficient. Key benefits include:
Pre-negotiated discounts that are generating average client savings of 7-25%+ from big name suppliers like Ferguson, HD Supply, Grainger, Graybar, Office Depot, and more.
Supply chain alerts for price and product availability changes on the items that matter to you most.
Private marketplace houses all your preferred suppliers in one location for easy access to your discounts. No more bouncing around websites comparing prices.
AI-powered purchasing tools that find the lowest prices even when employees shop outside your network.
Raiven is your one stop shop to save time and money. Ask our clients Core Realty, Lyon Living, or Oaks Property Management what we've done for them. Visit Raiven to learn what we can do for you.
And if you need your EV charging stations installed, be sure to visit Qmerit, the nationwide leader in electrification solutions.