How Can Multifamily Home Owners Address the Housing Affordability Crisis?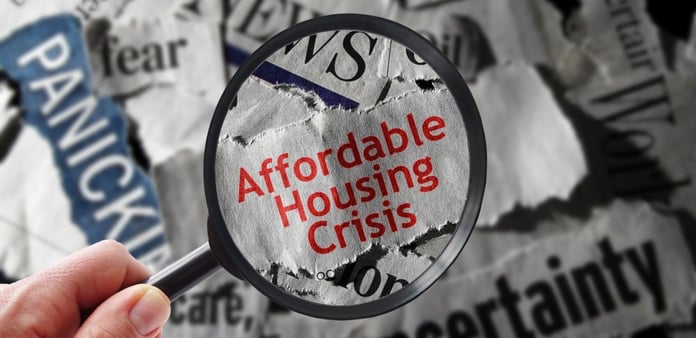 Author: Tim Moegen
November 3, 2023 - 4 MIN. READ
The affordable housing crisis is a complex issue affecting millions across the country. As an owner or potential owner of a multifamily dwelling, you have a firsthand opportunity to help by implementing affordable housing solutions.
Understanding the Housing Affordability Crisis
The enduring issue of high rent burdens among low-income tenants has been exacerbated by the recent inflation, worsening an already challenging situation.
Several Factors Drive the Housing Affordability Crisis
Housing prices are rising while wages in many sectors stagnate. Rents surged in 2021 and continued to grow in 2022. Overall, they have increased by 32% since 2017, and the upward trajectory continues. The shortage of affordable rental homes now stands at 7.2 million units.
Lack of Affordable Housing Impacts Low-Income Households Significantly
The absence of affordable housing disproportionately affects low-income households. These families often live in marginalized communities, where the lack of affordable units worsens existing inequalities. You may know of government programs such as rental assistance that attempt to address the problem. Federal government assistance usually comes in the form of Housing Choice Vouchers. Unfortunately, the vouchers cannot help where there is nothing to rent.
To complicate the problem even more, federal rental assistance only reaches one in four persons who should receive it. According to the article cited above, in 2019, over nine-million households receiving no assistance paid more than half of what they earned for housing. By the United States Department of Housing and Urban Development definition, the incomes of 7.8 million of these households were below the poverty line. When paying that much in rent, you can imagine how they struggled to meet the costs of food, clothing, and transportation.
A Diverse Approach Is Needed to Close the Housing Gap
A multifaceted approach that not only gives renters assistance but clears the way for more multifamily units will be necessary to close the housing gap.
Cities like Minneapolis are using innovative solutions to fight the housing crisis, such as eliminating single-family zoning and opening the door to the construction of more multifamily units. On lots that could legally once accommodate only one home, builders can now construct duplexes and triplexes. Minneapolis is effectively tripling the affordable housing in some neighborhoods.
In June 2019, Oregon passed HB 2001, which ended single-family zoning in the state. Legislators passed that law to encourage localities to allow the construction of more homes.
Strategies for Multifamily Owners
Investing in multifamily housing is a vital strategy to provide affordable housing for low-income families. As an owner of these properties, you can be part of the solution.
Affordable Units, Local Partnerships, Increased Support
What can you do to offer affordable multifamily housing crisis solutions? If you own multifamily property, consider offering units to low-income households. Try working with local nonprofits or government agencies to provide additional support. For example, Nesterly in Boston, pairs students looking for housing with seniors who have the space and can use the support. You can accommodate this type of connection.
If housing vouchers are offered for your area, you can accept them. In some cases, you can use a tax subsidy to boost your revenue when offering lower rents. You can also allow your tenants to use Rhino, a low-cost insurance alternative to a security deposit.
Lower Energy Costs With Energy-Saving Features
Lower utility bills make rent more affordable. You can help by providing energy-efficient appliances. Installing high-efficiency heating and cooling will not only lower energy costs but increase the value of your building. Limiting heat loss with improved insulation will benefit your tenants. It can also save you hefty repair bills by preventing the damage that results from ice dams. Installing alternative energy sources, such as solar panels, will also keep utility bills down.
Make Entry More Affordable
Your tenants may not only have low incomes; their incomes may also be unpredictable. Day laborers can see jobs dry up. Weather can affect construction and landscaping. Employers can cut workers' hours and wages without notice. You can help by offering flexible leasing options . These include short-term or month-to-month leases.
Community Engagement and Advocacy
As an owner of multifamily housing, you are not alone. You can join with others to lend a helping hand in finding affordable housing crisis solutions.
Partner With Community Groups for Impactful Solutions
How do you tune into what's going on with your tenants? One way is by engaging with local community organizations and advocacy groups. This will help you understand your community's needs and identify potential solutions.
Till allows tenants to pay when they have the money, yet ensures that rent will be paid on time. By working with Till, you will get your rent, and your tenants can access housing that might otherwise be out of reach.
You can also invest in an organization like Small Change in Pittsburgh, Pennsylvania. Small Change puts many investors together to build more affordable, vital communities. Anyone over 18 can put money into affordable housing as well as transit and other community-centered projects.
Try providing amenities such as gyms or pools alone or in cooperation with other multifamily owners. These facilities bring residents with diverse backgrounds together and create a sense of community. A sense of community lowers the crime rate, making your tenants more secure and your property more valuable.
Speak Out
Your government should work for you and your tenants. Push for policy changes that address the root causes of the housing crisis, including:
Zoning reforms.
Tax incentives.
Housing affordability initiatives funding.
Adding your voice can convert hope into reality.
Raiven Helps You Make the Right Connections
Raiven serves multifamily property owners and managers by providing the lowest prices on equipment, parts, and maintenance supplies as well as a purchasing platform that makes buying fast and efficient. Key benefits include:
Pre-negotiated discounts that are generating average client savings of 7-25%+ from big name suppliers like Ferguson, HD Supply, Grainger, Graybar, Office Depot, and more.
Supply chain alerts for price and product availability changes on the items that matter to you most.
Our private marketplace houses all your preferred suppliers in one location for easy access to your discounts. No more bouncing around websites comparing prices.
AI-powered purchasing tools that find the lowest prices even when employees shop outside your network.
Raiven is your one stop shop to save time and money. Ask our clients Core Realty, Lyon Living, or Oaks Property Management what we've done for them. Visit Raiven to learn what we can do for you.
If you need your EV charging stations installed, be sure to visit Qmerit, the nationwide leader in electrification solutions.