HVAC Opportunities in the Cannabis Industry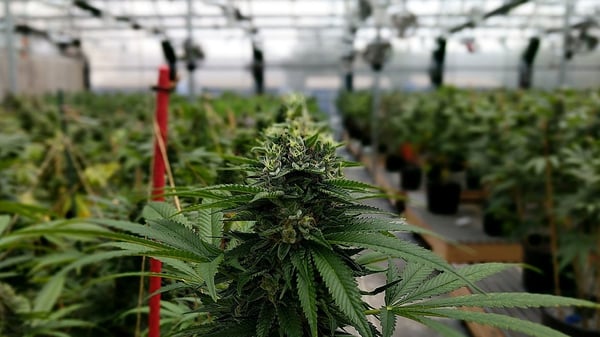 4 MIN. READ
Cannabis is one of the fastest-growing industries in the U.S., projected to reach an astounding $90.4 billion by 2026. Cannabis HVAC engineering can be complex, and HVAC contractors can take advantage of this fact to expand their own service offerings.
Executive summary
As cannabis gains popularity in the U.S., its growing facilities require innovative ventilation solutions and contractors to install them. Cannabis HVAC is a specialized field that you can enter with the help of a smart software solution.
The growing prominence of the cannabis market
The "green wave" is gaining ground across the country as several states have either legalized recreational and/or medical cannabis or put proposals on their state ballots to do so. In the last major election cycle in 2020, the number of states that had taken steps to legalize, jumped significantly.
Legalization for recreational cannabis increased from 11 to 18 states, and the number of states that legalized medical marijuana jumped from 34 to 36. Several local municipalities and territories have in turn decriminalized the possession of cannabis within their boundaries. The following are some aspects of legalization worth looking into.
Market growth
The cannabis market has experienced explosive growth after legalization in 18 states and decriminalization in others. Dispensaries and grow warehouses are sprouting up across city landscapes.
Even with the strict regulation and costly administrative fees associated with the cannabis sector, the flood of new businesses into this space is rapidly increasing. Everyone seems to want a piece of the green pie. Cannabis HVAC contractors can get their piece with the right training and resources.
The early birds win
Major players in the cannabis space have been growing regionally and positioning themselves for future success, anticipating the date of federal legalization. They have followed established policies and laws and developed succinct business plans. Companies that succeed now are prepared to dominate the market if it is federally legalized.
Cannabis HVAC sector opportunities
Cannabis growing facilities are complicated, sophisticated, and technically advanced. They tend to be large warehouse-type structures or industrial complexes that are heavily monitored. They are not lax basement or closet setups with a light and a fan. Instead, they are heavily engineered to precise specifications.
Engineering for performance
Before growers start their first seed, they have to design a bespoke system with a cradle-to-grave layout. Cannabis HVAC can directly impact crop yield and cultivation practices. Ambient temperatures are vital to the germination, growth, and development of young seedlings.
Controlling airflow and humidity and monitoring growth systems are also imperative in growing facilities. Airflow plays an important role in keeping temps stable and helping plants grow strong by simulating outdoor windy environments.
To harvest the best quality flowers, close attention must be paid to ensure all the growth metrics are adhered to. This is why you will find computers with building automation systems like you would see in a modern office building.
Improving energy efficiency
Optimizing energy costs is another vital part of the business. It takes a lot of energy to offset the huge heat and humidity loads produced in the facilities. This should be factored in from the beginning.
Maintenance, repair and general assistance with growing facilities should not be overlooked either. There should be provisions for preventive system maintenance and for general labor throughout the facilities.
How cannabis HVAC contractors can enter the market
Considering all the specialized HVAC equipment needed to cultivate cannabis, there are huge opportunities for HVAC contractors to enter the market and carve out a niche for themselves. You can get into this niche with the following:
Training and research. HVAC contractors must learn as much about the cannabis industry as possible. There are so many specific requirements for the systems and units that becoming a subject matter expert will set you apart from the pack.
Specific experience. Cannabis HVAC contractors have a unique opportunity to establish themselves within the niche by creating expert case studies. Documenting the design, operation and maintenance of a specific application can help you break into the market and establish a dominant presence.
Partnerships. Forming partnerships in the industry will help cement your authority in a local market. It will also go a long way toward ensuring long-term opportunities and repeat business.
Getting started in a new niche can be daunting. Fortunately, there are software systems in place that can help propel cannabis HVAC contractors to industry success.
Raiven can improve HVAC profit margins
Whether you choose to pursue the cannabis industry or not, Raiven can help you receive pre-negotiated discounts on HVAC equipment, parts and materials from industry-leading suppliers like Carrier Enterprise, Ferguson, Graybar, and Grainger. Our clients typically realize 7-25% savings on their common purchases, which drives up your profit margins or helps you be more competitive with your bids.
Raiven's Marketplace saves your employees time and money by providing one location for them to find and purchase products quickly and easily.
Raiven's digital buying assistant automatically finds products that are available and at the lowest price from our industry-leading suppliers and provides a comprehensive set of analytical tools and reports at your disposal. To learn more about Raiven, reach out today.