The Importance of Contractor Compliance & Management
4 MIN. READ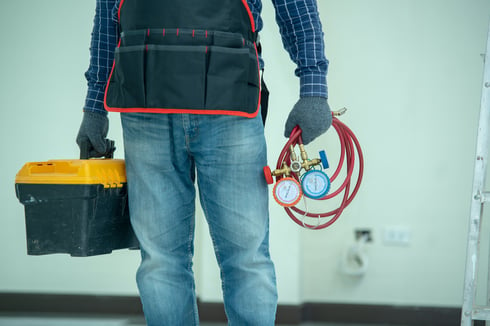 As a building owner or facility manager, contractor compliance and management is an important issue, as non-compliant contractors can expose you to liability and financial risk. These risks increase if contractors fail to complete safety training, which can result in accidents that cause injuries or even deaths.
In addition, expired licenses or lack of insurance can leave you and your business in serious trouble. By using an advanced software for contractor management, you can rest assured that all of your vendors meet requirements and all of your contractor's paperwork, licenses and insurance remains up to your company's standards.
What can go wrong?
A lot of responsibility falls on your contractors. And if they are non-compliant, then that responsibility ultimately falls on you. Your contractors should be licensed and responsible, carry the correct insurance, pay their subcontractors legitimately and ultimately protect you from undue responsibility by following contractor compliance standards.
Without adequate contractor management and monitoring, you put yourself at risk of hiring contractors who do not maintain a safe work site, are not up-to-date on current safety regulations, don't carry adequate liability insurance, are not skilled in the particular nature of the work they are performing, and do not produce reliable workmanship that is up to code. All of these issues can lead to risk for you and any individuals on your premises.
Contractors who follow regulations and insure themselves adequately can help you cover your business both financially and legally. This not only protects you and your business, but it protects guests and other employees on your site as well.
If construction efforts don't go according to plan, you are not the only fallback. Your compliant contractors should be able to bear responsibility and implement quick recourse on your behalf.
Legal liability
The legal liabilities that come with failing to hire a licensed contractor also ultimately fall on you. If your contractors fail to maintain a safe location, aren't in compliance for specifically risky projects or even fail to pay their subcontractor's wages, you are ultimately liable. Insurance policies and legal ramifications will defer up the pipeline and rest with you.
As an owner or manager, you are obligated to ensure that the location of your work is safe for all individuals on the premises, including employees, customers, subcontractors and guests. If legal proceedings ensue due to noncompliance by your contractors, you must assume the burden of this responsibility.
Not living up to the law can come back to bite you, especially if you're not on top of the requirements and responsibilities of your contractors. You should know if your contractors are non-compliant and have an easy way to keep up with their current insurance and licenses, as well as upcoming renewals.
Financial liability
Contractors should be versed in health and safety requirements necessary to keep their work and the work sites up to code. Health and safety training helps prevent lawsuits, shoddy workmanship and extra expenses.
Contractors who are non-compliant also put the work under contract at risk. If your contractor is not fit to perform the work, you may be liable for any issues that arise out of their poor performance. Non-compliance can also lead to a low quality of work, resulting in a higher cost to complete work safely.
You may also be left holding the bag if your contractors do not have workers compensation in place for their subcontractors. If this legal safeguard is not in place, you are responsible for covering compensation for any subcontractors who may be injured on the job.
By hiring contractors that you know are compliant and have adequate insurance in place for any subcontractors, you can be assured that the safety of your workers and the public is secured.
How contractor management software can improve compliance
Software specifically designed to track, evaluate and select your contractors can reduce risk and take the heavy lifting out of managing compliance. Analytics provide insights and the visibility you need to protect your legal and financial liabilities while selecting contractors that have a proven track record of exceptional performance, safety measures and regulatory compliance.
Raiven's contractor management platform provides you transparency, visibility and automates your compliance processes to ensure that all your bases are covered. Your contractors are provided a self-service portal so they can upload their initial documentation and ensure their licenses, insurance, I-9's, safety training are always up-to-date.
Raiven continuously monitors credentials and alerts are sent to you and your contractor when your contractors' documentation is nearing expiration so that you can verify that they take the necessary action to remain in compliance.
Raiven's Contribution Index™ (QCI) measures real-time contractor performance and provides you with feedback on the performance of your selected contractors. It takes into account your contractors' skills, customer feedback, compliance measurements, service quality and safety history.
To learn more about how Raiven can help you better ensure contractor compliance and digitize your contractor management, contact us today.