What New World Health Organization Air Quality Guidelines Mean to HVAC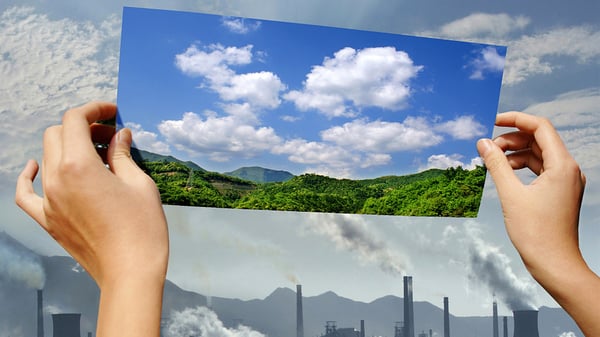 4 MIN. READ
The World Health Organization (WHO) recently tightened air quality guidelines to account for the Covid-19 pandemic and rising threats of climate change. The new WHO air quality recommendations are far stricter and create both challenges and opportunities for the HVAC industry.
The sweeping revisions to WHO air quality guidelines are a game-changer for HVAC contractors, driving increased demand for new green construction and upgrades to existing facilities. There is substantial opportunity for green HVAC contractors who understand the landscape and position themselves for success with the right knowledge and tools.
Let's first explore the details of the new WHO requirements and what they mean to HVAC contractors.
About the World Health Organization
The WHO is an agency of the United Nations founded in 1948. Its goal is to promote health globally and protect the underprivileged living with inadequate health care and living conditions. Its key mission is setting international health standards and providing guidance on important health issues. Sustainability and environmental quality are key themes.
All 193 UN members are represented by delegations to the World Health Assembly, WHO's decision making body. Thus, the WHO has considerable influence over world health standards.
In addition, the WHO works closely with the U.S. Environmental Protection Agency (EPA) through a Memorandum of Understanding signed in 1992 and renewed in January of 2022. This document calls for cooperation between the two agencies in numerous areas, including indoor and outdoor air quality and its effects on health.
The United States provides substantial funding to WHO. Thus, it is reasonable to expect that EPA air quality guidelines will track the new WHO standards.
Overview of the new WHO requirements
Air quality took center stage at the WHO's First Global Conference on Air Pollution and Health. The WHO stressed at the 2018 conference that pollution causes up to one-third of global deaths from stroke, lung cancer, heart disease and acute respiratory infections.
What is driving the first changes since 2005 are these grim statistics:
99% of the world's population

breaths air that exceeds WHO limits on pollutants.

Up to 7 million people die annually from the effects of indoor and outdoor pollution.

At least 4.2 million people die by diseases caused by outdoor air pollution alone.

The

worst five countries

for air pollution are:

Bangladesh

Pakistan

India

Mongolia

Afghanistan
Highlighting changes in WHO air quality standards
Changes to WHO air quality standards are substantial. Key examples include:
Inhalable particulate matter less than 2.5 microns wide; 50% reduction in the annual limit

Inhalable particulate matter less than 10 microns wide; 40% reduction in the annual limit

Nitrogen dioxide; 75% reduction in the annual limit
Because fossil fuels cause a great deal of air pollution, these new limits come along with overall sustainability goals for reducing the global carbon footprint,
Potential effect of new WHO air quality guidelines on HVAC contractors
Pollution hazards lurk in both outside and inside air. Thus, they must be addressed from the inside as well to reduce exposure to pollutants. Confining polluted air to enclosed spaces leads to even more concentration of pollutants. Indoor air needs to clean up.
It follows that this will mean rising demand for HVAC contractor services who can offer key services to improve indoor air quality:
Better supply and exhaust standards and equipment increase room air changes. Contractors can leverage

EPA guidelines

for ventilation. These also address precautions for Covid-19.

Deploy high-quality air cleaners and filters, MERV 13 is recommended.

Integrating all these steps with new smart devices that will sense air quality issues and address them automatically, while tracking performance.
The impact of rising ES&G investments
Increasing awareness of the need for sustainability and stricter WHO air quality standards are driving demand for investment in Environmental, Social & Governance (ES&G) projects in the U.S. and around the world.
According to Black Rock, the world's largest investment manager, 2020 investment in sustainable assets was almost $300 billion, doubling the total from 2019. In April 2021, Invesco started an exchange-traded fund for green buildings, and a similar green real estate fund started by Foresight last year has shown double-digit returns. Indeed, sustainability has become profitable.
Now, fund investment is generating new sustainable building projects that are safer, healthier, and greener. In fact, sustainability is becoming a requirement for financing. Examples of such buildings include Lendlease's $600 million residential and office complex in Los Angeles and Hudson Pacific Properties' solar-paneled office tower in Hollywood.
The rise of these new projects will drive the need for green HVAC contractors to turn WHO, and other air quality standards for indoor air quality, into reality.
Final thoughts
The recent tightening of WHO air quality standards signals increasing momentum in new green building projects. The rapid rise in ES&G investments demonstrates that sustainability can be profitable.
These developments mean opportunities for green HVAC contractors. To seize the opportunity now, businesses need to transform their supply chain to establish reliable suppliers of green equipment, parts, and supplies.
To succeed in this new green world, HVAC contractors must build an effective, reliable supply chain for green equipment and supplies. They will need simple, easy-to-use technology solutions to make this transformation. The days of paper documents, spreadsheets, and surfing multiple portals are gone.
Raiven can help your HVAC business create a robust supply chain capable of helping you meet the rising demand. With Raiven, you can seize the initiative and start growing your green business now.
Raiven has the solutions
Raiven Marketplace saves your employees time and money by optimizing your purchasing. Raiven provides one location to find and purchase products quickly and easily, finding in-stock products at exclusive savings.
In addition, a digital buying assistant automatically finds products that are available and at the best price from our industry-leading suppliers. It also provides a comprehensive set of analytical tools and reports at your disposal.
If you want to save time and resources, Raiven can help you get pre-negotiated discounts of 7-25% on HVAC equipment, parts, and materials from industry-leading suppliers, including Carrier Enterprise, Ferguson, Graybar, Grainger, and Koch Filter. For more information, contact Raiven today.