Byton Names a Partner For Home Charger Installation, and it-isn-t Amazon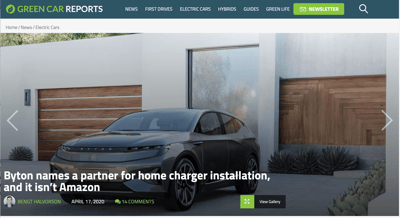 Ahead of the U.S. arrival of the M-Byte electric SUV next year, the fledgling electric automaker Byton has announced a partnership with Qmerit for residential charger installations.
Initially, the agreement will result in a program for coordinated installation of Level 2 home wall-box charge points.
Most brands offering plug-in vehicles have so far gone with one of two national networks for home charger installation. GM and BMW partner with Qmerit—including for BMW's wireless charging trial—but Audi, Kia, Ford, and others have hooked up with Amazon Home Services.
"Ensuring access to innovative energy solutions is just one of the many ways Byton has built a solid foundation for a successful North American launch," says Jose Guerrero, Managing Director BYTON Americas.