A Stealth eCommerce War Comes to the B2B Space
4 MIN. READ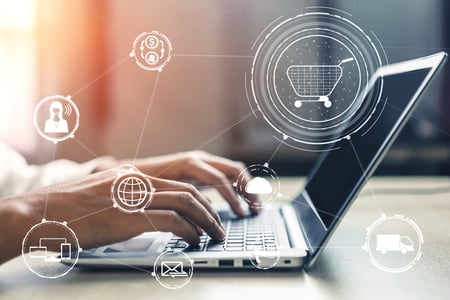 Amazon has hit the eCommerce space with a clever weapon that snaps would-be customers right out of their competitors' grasp. Many of us know this device as the Amazon Assistant, a seemingly innocuous plug-in that consumers download onto their machines.
Its mission is to detect when shoppers browse the websites of rival retailers. When they do, the Amazon Assistant automatically directs the consumer to Amazon's website, where the same or a similar product is offered. Many sellers are unaware that Amazon has devised the technology to poach their customers.
Until recently, this weapon was deployed against business-to-consumer operations, such as Target and Best Buy. Now Amazon has moved it into the business-to-business space, poaching from companies like Staples, Zoro and Home Depot.
This change in tactics means that your business needs to be on the lookout. Your company's eProcurement department has likely created supplier networks that specifically benefit you for many reasons such as special discounts, rebates, better quality and frequent buyer rewards.
The Amazon Assistant can overthrow the hard work it takes to secure your economical supplier networks and encourage rogue spend instead.
Amazon continues to innovate
Another technology Amazon is rolling out allows a buyer to simply take a photo of an item and receive immediate results. This one-step shopping option pushes traditional private sellers to the wayside, creating a singular funnel for potential buyers to exclusively seek out goods that are sold through the Amazon platform.
Amazon also personalizes the shopping experience, taking online behavioral clues and turning them into Amazon sales. As convenient as it is to have your digital counterparts anticipate your every need, it stifles the autonomy of your eProcurement professionals. The Amazon Assistant removes all other variables from the purchasing equation, preventing your company from relying on broader purchase considerations, such as comparison shopping and long-term relationships with trusted private sellers.
Why rogue spend is so damaging
Rogue spend within an organization is often an invisible threat, whose most insidious facet is that it's not easy to identify. It occurs outside of the large, predictable purchases made by your eProcurement department and is most often found in commodity purchases for office supplies, part replacements, maintenance and other one-off transactions that occur sporadically throughout an organization. They tend to fall outside of standard eProcurement workflows, often go unreported and rarely make it onto financial dashboards.
Rogue spend makes it impossible to create a comprehensive spend analysis and clouds your organization's ability to plan appropriately for future spending. Amazon Assistant coerces your employees to quickly conduct eProcurement purchases like these that never make it onto the books. Whether accidental or intentional, Amazon Assistant circumvents your company's predictable purchase protocol, creates misuse of standard structured workflows and promotes unauthorized workarounds.
Rogue spend also takes purchases away from reliable suppliers and creates an operational tracking problem for your business. It breezily opens up the perfect opportunity for Amazon to surreptitiously commandeer your company's otherwise carefully constructed purchase funnel.
Not only can you not track what money is being spent, but you also have no control over the suppliers it is going to, and you cannot use it to further bolster long-standing business relationships with private suppliers.
Relying on eProcurement software such as Raiven can derail this type of behavior and re-direct these purchasing to preferred suppliers and curtail rogue spend. Raiven offers an alternative to Amazon Assistant and provides an easy-to-use, standardized and trusted supplier network to help you get your entire company on board and back on the books.
How purchase poaching becomes a quality issue
eProcurement officers need to keep a close eye on the value proposition of their suppliers. Amazon may offer a lower price on a single item, but the origination of the goods, the active support, the multi-line discounts and the repeat buyer perks can put private sellers above this major mogul in bottom-line savings.
Amazon provides a platform that offers a place for a wide array of sellers to pitch their wares. With Amazon having a reliable name in a particular line of business is not necessary and degrades quality control over the available options. This lack of regulation creates an opportunity for those suppliers to charge competitive prices for goods with a lower value.
Suppliers need oversight, regulation and predictable sellers. In all of these areas, Amazon falls short. There is no contractor oversight, no trusted relationship with suppliers and no management of goods. Although convenient, Amazon Assistant undermines the supplier management process at every turn.
Amazon Assistant introduces additional suppliers into the process, creates invisible spend that's hard to track, wastes worker time by allowing out-of-workflow spending and purchases, and results in financial planning difficulties for your company.
By harnessing the power of Raiven, you can rein in rogue spend and combine trackable eProcurement with reliable, consistent suppliers. Prevent purchase poaching and keep your company's eProcurement on track by using a contractor platform that guarantees compliance and helps you create lasting relationships with reliable private sellers.
Contact Raiven today to learn more about how you can put your eProcurement process back into your own hands.