Baker Distributing Joins Raiven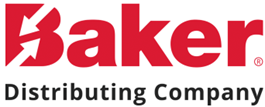 Raiven is excited to officially announce the addition of Baker Distributing to their ever-expanding lineup of world-class HVAC suppliers. With the addition of Baker Distributing, Raiven members will receive access to one of the nation's leading HVAC distributors and receive exclusive pricing on Baker HVAC parts, supplies, and equipment.
The HVAC supply chain has been challenged by COVID-19, inflation, and geopolitical issues, resulting in elevated prices and limited supply. As winter hits the US, demand for heating services, and associated parts, supplies, and equipment, are on the rise. Having access to reliable suppliers, such as Baker Distributing, is key for HVAC contractors to keep operating costs low and avoiding expensive delays.
Baker aims to bring stability to this fluctuating market by stocking product lines from over 500 different manufacturers, including some of the biggest names in the industry, and offering nationwide distribution capabilities to their customers. And with their addition to the Raiven Marketplace, Raiven members will now receive access to exclusive discounts on the parts and supplies that they purchase most frequently.
"Raiven is happy to welcome Baker Distributing to our platform," says Raiven CEO Brett Knox, "Their wide breadth of high-quality products combined with their commitment to their customers' success and well-being make them one of the best in the industry, and we are proud to have them on our team."
With this new partnership, Raiven members will gain the benefit of:
Access to Baker's vast distribution and sales network, including over 200 sales centers spread across 23 different states.
Enrollment in new loyalty and rewards programs
Access to extensive technical documents and training resources
Access to Baker's team of technical experts and support staff
Additionally, Baker also provides a great way for customers to restock and resupply refrigerants. As new standards are being implemented and acceptable refrigerants become scarce, having access to a reliable supplier of these increasingly valuable resources is key.
ABOUT BAKER DISTRIBUTING
Baker Distributing Company is a leading national distributor of Heating, Ventilation and Air Conditioning equipment parts and supplies. They carry extensive product lines from more than 500 manufacturers and trusted brands including Residential HVAC, Commercial HVAC, Ductless HVAC, Commercial Refrigeration and Foodservice.
ABOUT RAIVEN
Raiven is a leading purchasing, procurement, and supply chain management platform enabling contractors and facility managers to digitally transform their procurement process and obtain significant discounts on their most commonly purchased items. Raiven's cloud-based procurement platform helps businesses purchase smarter and more efficiently through patent-pending AI algorithms that find in-stock products at the lowest prices. Learn more about Raiven at www.raiven.com and on LinkedIn or Facebook.
ORDERING
Raiven members interested in ordering from Baker Distributing should contact Nick Pinion to receive your exclusive discounts.
Nick Pinion
Account Manager, Hvac/Plumbing
(713) 677-9711
Nick.Pinion@Raiven.com