4 Tips to Help Property Managers with the Shortage of Skilled Contractors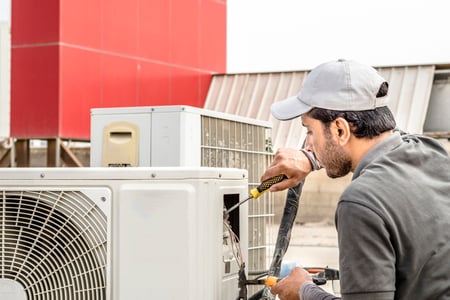 No fewer than 80% of construction firms are having problems finding qualified workers to hire for their projects. Most of them feel that the problem is going to continue, with 35% of respondents thinking it will get worse. Historical trends support this idea; the percentage has increased by 10% since 2017. In fact, the U.S. Department of Education said that if trends continue, there will be 68% more job openings in infrastructure-related fields than people training to fill them. All of this adds up to meaning that there is a significant shortage of workers in certain skilled construction and infrastructure trades, especially in the fields of plumbing and HVAC repair.
This shortage is especially acute when it comes to HVAC technicians, electrical technicians, and plumbers. Why? There are a number of reasons.
Causes of the Skilled Trade Shortages
1. Military recruitment is down. Many enlistees learn a trade while in the military.
2. More people are choosing college over trade school, despite the higher cost.
3. A lot of current workers are now approaching retirement and are not being replaced. The average age of a tradesperson today is 56.
4. Many young people feel that entering "the trades" results in hard work for low pay. This is not true; often these jobs give decent pay for shorter training time and less student debt. The median income for HVAC mechanics and installers was $47,080 in 2017, and most do not have a college degree. Pay can be even higher in areas with a construction boom or a high cost of living.
5. After the 2008 housing bust, many workers left for other professions and never came back.
6. Young people are often not made aware of options in the trades and are pushed towards an expensive college degree rather than an apprenticeship program that can help them learn on the job and find a path to a higher-paid job. Contractors need to provide this information.
All of this is combining with high demand to create an overall shortage of workers in these trades. Wages and prices are going up but are not attracting workers to what many people see as a second-class job not worthy of their talents. This couldn't be further from the truth, in fact, it is very skilled work! HVAC technicians, for example, have to be able to use computers, deal with multiple systems, manage their own time, work out the best route between jobs, etc. The amount and variety of skills needed is a lot higher than many people think.
The Problem for Property Managers
Property managers hire contractors, who are competing for the limited pool of skilled employees. Because of this, contractors often can't keep up with the jobs, so property managers find themselves waiting longer and longer for work that is often of lower quality. Tenants wait for the repairs they need and that affects their overall satisfaction.
Potential Solutions
So, what can property managers, working with contractors, do to help lower the effect of the worker shortage? Here are a few tips:
1. Sign up for a maintenance contract. If you have a maintenance contract with a contractor for your HVAC, electrical or other equipment, you will most likely be a top priority when you need emergency service or a natural disaster hits. Contractors are like all other businesses, when demand exceeds supply, they take care of their contracted customers first. Further, when you have maintenance routinely performed on your equipment, the likelihood of an unexpected failure is dramatically reduced.
2. Help your contractors succeed. There are a variety of ways to do this, but one of the best ways to build loyalty is giving them steady work. It may seem counter-intuitive but introducing them to new business and providing references means that they'll prioritize your call over another. One often-overlooked way to help contractors is by granting them access to your private marketplace so they can take advantage of discounts you have negotiated with suppliers. Done right, they can still use their favorite suppliers and get a discount that can offset their labor costs. It's a win-win for both of you!
3. Create and reward a contractor meritocracy. A contractor management program measures performance and allows you to award work to the best contractors. This helps you build relationships with the contractors who do the highest-quality work. You'll also benefit by saving money since you'll reduce the number of tasks that are not done effectively and need to be redone.
4. Be as easy as possible to work with. Pay on time, follow through on promises, and be reasonable with deadlines. Think about it—if you had a choice to do a job for someone who has proved themselves to be responsible and pleasant or one who isn't, who would you prioritize? To make sure that you maintain a good relationship, clearly outline your expectations to ensure the contractor is on the same page. Also, be respectful of the contractor's time when rescheduling a job or canceling. If you treat your contractors right, they will prioritize your jobs.
If you'd like other tips about how to build great relationships with contractors, check out 4 Ways to Save Time and Money Managing Contractors. And, of course, there's Raiven's Contractor Management Program, with our proprietary Raiven Contribution Index (QCI), which measures real-time performance of your contractors.