5 Reasons You Need Contractor Management Software Now
4 MIN. READ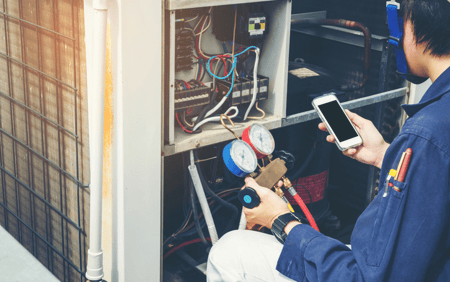 Managing a contractor network comes with the significant challenge of tracking performance. When dealing with a large number of independent contractors, this process can easily lead to working endless hours or chasing information that provides little insight.
That's why Raiven created its contractor management software that automatically computes metrics and provides scoring, taking the legwork out of rating contractor performance. Raiven's software gives you easy access to a centralized, cloud-based database of contractor credentials, activities and performance scores so you have a comprehensive view of your contractor network.
Now, you can monitor and measure your contractors' performance levels based on the Raiven Contribution Index (QCI™). With complete access to data and ratings, you can easily analyze metrics for contractors and mitigate your risk, all while streamlining your project management activities.
Five reasons you need contractor management
1. Risk and control
The ability to access a dashboard that provides real-time data on contractor credentials, project status and contractor performance will reduce manual paperwork and filing, lower costs and improve your supplier-contractor relationships. Use this tool to assess your risk, manage and maintain your projects, and analyze metrics for contractors.
The availability of contractor data will give you insights that improve cost control and ensure best practices. Raiven removes uncertainty so you can regularly monitor compliance and performance.
2. Health and safety
It's essential that contractors understand the work they need to perform and the safety standards they need to follow. You need to have access to metrics that empower you to assess and monitor the safety programs you have in place as well as your contractors' compliance with those programs.
You can document Job Hazard Analyses (JHAs), job-site inspections and hazard identification and leverage mitigation techniques through Raiven's contractor management database.
3. Compliance
Tracking contractor documentation is crucial to managing contingent labor. Licenses, I-9's, safety training and insurance information need to be accurate and up-to-date.
Raiven's software relies on a vetted and validated algorithm that monitors your contractor network to ensure compliance. Alerts will be sent to you and the contractor when documentation is due to expire, which reduces your compliance and service risk.
Raiven's SAFE-IN/SAFE-OUT™ feature lowers your company risk by driving contractor behavior to meet OSHA and company safety procedures.
4. Performance measurement
Your Raiven contractor management system includes the exclusive Raiven Contribution Index (QCI). This index continuously audits your contractor network to measure performance and provide metrics based on a multitude of attributes.
Raiven's software will calculate a QCI score between 1 and 1,000 for each of your contractors so you can identify the best and worst performers in your network. Based on the contractor's QCI score, you can work with high-quality contractors who consistently rate at a high level of performance, while also encouraging those with lower scores to raise them.
The QCI algorithm score is similar to a FICO score. It provides key insights and ratings based on contractor metrics so you're equipped with the information you need to protect both your clients and your workers.
5. Performance evaluation and ratings
With QCI ratings, you can position yourself to work with best contractors in your network by reviewing past performance and feedback. Contractors with a high QCI score have consistently outstanding ratings based on the QCI's indicators so you can be assured you're going to receive the highest quality work for every service request.
Now that you have access to quantifiable ratings based on performance, you can choose contractors who deliver the highest quality work.
How ratings improve contractor performance
The Raiven dashboard gives you a new level of visibility and insight so you can monitor performance and identify the top performers in your network. This system of accountability, based on metrics for contractors, also gives contractors feedback from their performance evaluations.
Contractors will have access to their QCI score, and each contractor will be measured by the same criteria. The transparency of the QCI score creates an environment where each contractor has the opportunity and incentive to improve their rating.
Raiven's rating system
Raiven's rating system creates a meritocracy. With the QCI scoring, you can take a fair and objective approach to contractor management. Use your dashboard to measure various aspects of your contractor's performance history, including interactions with customers, performance evaluations, compliance tracking, and pricing history.
If you'd like to find out more about how Raiven's contractor management software and QCI scoring can help you, see Raiven's solutions for contractors.