Controlling Your HVAC Spending as an On-Site Apartment Manager
5 MIN. READ
A day in the life of an on-site apartment manager: You need to balance the fine line of ensuring the best experience for tenants as well as upholding your fiduciary responsibility to the building owners and stakeholders. You need to operate with the bottom line in mind and be hyper-focused on efficiencies and cost savings.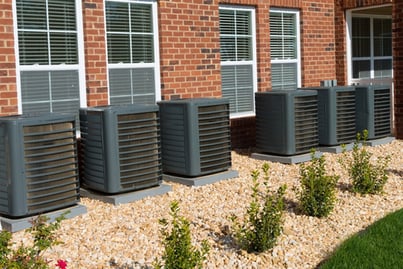 This will translate to greater revenue and a positive NOI. However, these are not easy tasks, as there are many other issues that an on-site apartment manager needs to worry about.
Maintenance and repairs and routine supplies for HVAC and plumbing can decimate budgets if they are not reined in. So, getting control of spending on these supplies is critical for managers to maintain a clean budget. Fortunately, the Raiven platform can help you save money on routine supplies.
Identifying critical HVAC expenses
Knowing what you purchase, how much the costs are and from whom they are sourced are critical data points to collect and understand. An on-site apartment manager is typically tuned in to the daily operations of their buildings and knows exactly what they need.
In addition, working in conjunction with your maintenance tech team to correctly identify and document all supplies that you need at the property is important. Tracking these items and the associated spending will enable you to understand your budget better and make educated decisions when it comes to purchasing.
It is also critical to know from where items are being sourced. Are you ordering online from big box stores? Or are you driving up to the local hardware shop for your belts and filters?
Partnering with trusted and reliable vendors and suppliers will help you save time and money.
Have you vetted your suppliers?
Vetting your suppliers requires taking the extra step to verify pricing, contracts and agreements, insurance requirements, and more. This is an important step to ensure a good relationship and the best pricing for your supplies.
Raiven's platform makes vetting and working with suppliers easy. The platform aggregates the top suppliers and supplies around to ensure the best pricing for you. You also have the ability to add your own preferred suppliers to Raiven Marketplace so you can still do business with the partners you have worked with for years.
Purchasing can become easier because you can do all of your shopping on one website - no need to jump back and forth to other sites. You can also add all of the necessary supplies into your universal cart. This streamlines your purchasing process and saves you time and money.
Get the best pricing
When you partner with preferred and vetted suppliers, you have the leverage needed to ensure the best pricing. Within Marketplace, suppliers and supplies are aggregated so you have visibility and ease of access to the routine supplies needed to run your operation.
With Raiven's buying power, we deliver pre-negotiated discounts from 7-25% on your routine maintenance and repair supplies. So all your filters, belts, fuses, and tools can be purchased at a significant discount for your building. This will translate into a healthy budget and positive variance.
The Raiven platform also has a unique browser extension, so even if a purchaser mistakenly (or intentionally) tries to purchase items from unapproved suppliers (rogue spending), the browser extension will pop up similar items within the approved network and will allow you to purchase them instantly.
Another often-overlooked benefit of cost savings is that it will increase the value of your property. This is music to any building owner's ears. For every dollar saved on maintenance and repairs, it will increase your property value by $25 (assuming a 4% cap rate).
As an on-site apartment manager, you have an opportunity to provide exceptional value to your owners by introducing Raiven's software to save money on routine supplies.
Let automated software save you money
Automation in multifamily management means using advanced software like Raiven's platform implements, to systematically do all of the essential and tedious tasks that used to be done manually. This includes purchasing, vendor approval and RFPs.
Streamlining these processes will save an on-site apartment manager time and money. Automating routine tasks will free up your time to focus on other pressing items on your property.
Raiven's platform allows your team to create and save shopping lists for repeat orders. You will also be able to submit electronic quote requests to suppliers to help streamline your workflow approvals.
Smart automation can transform your business, freeing up your time and saving you money.
Other benefits of automation
An on-site apartment manager should embrace automation for its simplicity. It is not a cumbersome program that needs to be tended to all the time. In fact, other benefits of automation include:
Repeat orders - That quarterly filter ordering? You can submit it automatically.
Compliance - Your suppliers and contractors need the proper documentation so you limit your risk. Automation can make this easier.
Request for proposals - Raiven's software allows the bulk of the RFP process to be automated. Collecting documentation, bids and more can be done via the platform, and information and updates can also be relayed.
An on-site apartment manager can automate and save with Raiven
Take control of your business and streamline your operations. Raiven's platform and marketplace can save your property money on routine purchases and will make your team more efficient with automation. Free up some time in your day, improve your budget and increase NOI.
Reach out to Raiven today to connect and learn more.