Data Analytics Is Making Commercial Real Estate More Transparent and Profitable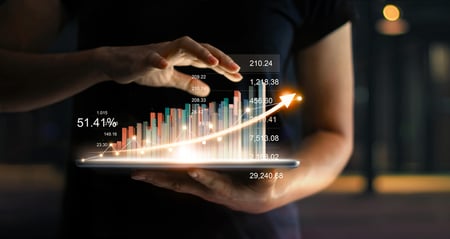 Commercial Real Estate (CRE) profits are soaring. Part of this success is attributable to the economy. A significant part is also attributable to better data for identifying risks, opportunities and cost-savings. Savvy real estate investors and owners are benefiting from analytics insights that are transforming their commercial real estate business's bottom line. Are you taking full advantage of data analytics to maximize your returns?
Changing dynamics
Decisions around commercial real estate have long been numbers driven. Real estate firms have made decisions based on traditional data like vacancy rates, estimated expenses/profits per square foot and plain intuition for years.
As a result of the current greater availability of big data and analytics solutions, one can now harness more data to make strategic decisions rather than relying on hunches or alleged best practices. Still, the CRE market has generally lagged behind other financial sectors in capitalizing on data analytics capabilities. Now, you have much more data accessible than even just a few years ago. Accordingly, new variables and technology tools are fostering better projections, cost metrics, purchasing decisions and business deals.
Building owners who are aware that an average of $1.45 per square foot is spent annually for the maintenance, repair and operations (MRO) of CRE buildings need to be able to gauge how they compare on MRO spend for their building portfolio.. They also need data tools to try to find ways to reduce expenses and boost profits.
Effective CRE firms are using increasing amounts of data today to better assess a building's finances, from initial lending to ongoing maintenance, and are developing actionable insights. Crunching numbers on net effective rents, market demand, leasing spreads, data gleaned from the Internet of Things (IoT) sensors and other analytic solutions enables more informed decisions. The influx of new data sources has increased the complexity of owning real estate. However, it has also enabled many property owners, management companies and contractors to make better decisions.
Big data transforming real estate
McKinsey & Company researchers have found that non-traditional data sources are becoming increasingly relevant along with demographic and crime information. They found that traditional data sources are important, but currently nearly 60 percent of predictive power may come from non-traditional data sources.
One study showed that apartment buildings in Seattle that are within a mile of specialty grocers, such as Trader Joe's and Whole Foods, increased in value faster than those in other areas. Another study showed the impact of proximity to a Starbucks on property values in Boston.
Big data is also transforming real estate lending by using credit risk algorithms that analyze data from various public and licensed sources to produce real estate risk scores.
The Internet of Things (IoT) is also impacting CRE. Smart devices are yielding powerful data that you can use to cut electricity and maintenance costs as well as boost property values.
Data analytics is impacting supply chain deal making as well. For example, Raiven's platform aggregates information on MRO suppliers and contractors to improve purchasing decisions. Raiven leverages this aggregated data to enable property owners to boost their bargaining power and lower their average MRO expenditures per square foot.
Hurdles for adoption
Successful data-driven approaches can yield powerful insights to running any business, including ones in the CRE arena. So what is holding you back from capitalizing on available data?
There are several reasons why real estate professionals, investors and contractors have resisted becoming more data driven. A key reason often cited is lack of industry standards and processes defining data descriptions, gathering and interpretation. Without some standards, data can be manipulated and lose credibility.
For many firms, a bigger issue is limited analytical capabilities. You need talent and tools to source and leverage data. Building (or purchasing) advanced analytics capabilities is no straightforward task. Collecting enough data to build accurate algorithms takes time. Scrubbing data can be costly in time and dollars, and there is fierce competition for analysts in all industries. Despite the rise of more consulting firms and applications, CRE firms need to be able to translate increasing amounts of data into actionable insights.
Getting started
The growth of big data and vast potential types of variables to explore may seem daunting to you. Where do you start accessing data to make a difference in your bottom line?
Start with Raiven's MRO Marketplace and platform to improve your procurement results. The platform makes it easy for you to access purchasing data and deep discounts on parts and materials. You can also extend your discounts to your contractors, further impacting your results. To learn more, visit our website or connect with us by phone or email.