Demand For Electricians Is Soaring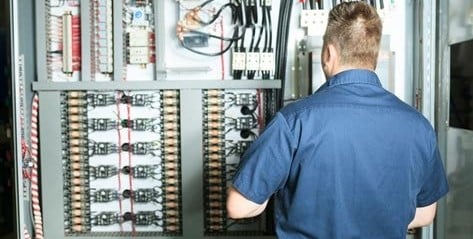 June 28, 2022 - 5 MIN READ
Are Electrical Contractors Currently in Demand?
Ever since the founding of Westinghouse's Niagara Plant and the adoption of AC current, electricians have been in high demand. The future shows no signs of that trend slowing, especially as the demand for clean energy sources and electric vehicles continues to rise.
Executive summary
The demand for electricians is the highest it has been since the Great Recession ended, and their job satisfaction remains high as well. The electrification movement and other factors have led to shortages in skilled labor, including electricians. Electrical contractors that need to hire electricians to grow their business will need to work more efficiently and stay alert for opportunities. Raiven is a great opportunity to improve your profitability while you grow.
Tight U.S. labor market
As the U.S. continues to recover from the workforce upheaval brought on by COVID, employers find it difficult to lure employees back into the job market. Manufacturers and contractors are particularly behind the eight-ball in this regard. For years, parents and guidance counselors have steered students away from the trades and toward a more prestigious four-year college degree. However, recent studies show that a college degree is not the correct choice for every student, either financially or as a career move.
Unfortunately, this mindset has left a staggering gap in qualified candidates for skilled trade positions. A recent Deloitte study anticipates a shortfall of 2.1 million workers to fill skilled jobs by 2030. If you are looking for a job that is already in high demand and will remain in high demand, it is hard to beat the skilled trades, especially as an electrician.
Not only are skilled tradespeople in high demand, but they are more likely to express greater job satisfaction. In particular, 77% of U.S. electricians rated their job satisfaction as extremely high and felt a sense of pride in their work. The top five reasons for their high job satisfaction are:
Interacting with customers — 22%.
Learning something new — 21%.
Working outdoors — 20%.
Job variety — 20%.
Seeing visible accomplishment each day — 19%.
The National Association of Manufacturers (NAM) notes that diversity and inclusion are the keys to filling the current and anticipated gap in skilled tradespeople. Traditionally, the trades were viewed as an all-male career choice. During WWII, women stepped in to fill the roles of welders, electricians, and other skilled tradesmen. Then, as the men returned from war, the women stepped back.
Manufacturers have recently recognized the value of diversity and inclusion. Women comprise 50% of the workforce as a whole but only 10% of skilled tradespeople. With a great demand for electricians and a high level of job satisfaction, there has never been a better time for contractors to think outside the box when recruiting for electricians.
Increased demand for electrical contractors to meet clean energy requirements
Roughly half of all Americans say they would consider buying an electric vehicle within the next 10 years, up considerably from just a year ago. For some individuals, electric cars are a more viable option than when they first entered the market, but for others, the decision is based on personal environmental concerns.
Either way, electrical contractors will benefit from increased consumer confidence in EVs.
In Normal, Ill., several teams of electrical contractors transformed an old Mitsubishi Motors Corp. car manufacturing plant into a state-of-the-art EV production line for Rivian Automotive. Rivian's EV lineup includes SUVs, pickup trucks, and vans for use either on- or off-road. One of the company's long-term goals is to build a charging network across the U.S. to ensure that its vehicles can be charged anywhere and reach the company's net-zero carbon commitment by 2028.
Rivian is not alone. Many EV manufacturers are building or renovating plants to increase EV production, creating their own charging networks, and implementing energy efficiency upgrades to reduce the electrical load in their buildings. Further, in the future, motorcycles, ATV's boats, and even airplanes will be powered by batteries. And all of them will need charging stations to keep the running and skilled electricians to complete the work.
Automotive manufacturing companies are not the only ones clamoring for electrical contractors. As the popularity of EV ownership grows, homeowners, multifamily property owners , and commercial building operators will require charging stations. While Level 1 chargers take days to fully charge an EV, they can use the same type of circuit as a household appliance, such as a washer or refrigerator. Level 2 Charging Stations charge EV batteries much faster but require greater amperage.
Depending on the age of the home or building, an electrical contractor will likely need to install a new circuit breaker box if you choose a Level 2 charger. Since most homes have a 100A load capacity, its recommended to get an additional 50A or 100A capacity if you want to be ready for the next generation of charging stations that will have much higher output and will charge your vehicle faster. For example, the F-150 Lightning will offer an 80A charging station that will provide a full charge from 15-100% in about 8 hours compared to 14-16 hours for a typical Level 2 charger.
Fortunately, the federal government is funding clean energy initiatives such as EV charging stations. The Bipartisan Infrastructure Deal provides clean energy funding on a variety of fronts. The U.S. Department of Energy controls more than $62 billion for investment in American manufacturing, access to energy efficiency and clean energy, and the creation of new and renewable energy sources.
When combined with the Build Back Better Act, the funding will extend to include workforce development. Specifically, it will focus on the electric grid, clean buildings, and industry. This training will give you the cutting-edge skills you need to serve America's electricity needs now and well into the future.
Supply chain issues and your cost of doing business
As with all the building trades, electrical contractors feel the impact of supply chain issues. Worldwide events, such as the Ukraine war and the ongoing COVID closures in China, greatly impact your ability to find electrical materials such as wire, breakers, meter housings, and higher amperage breaker panels at any price. Inflation has hit unexpected highs in the U.S. and worldwide, which are increasing costs for everyone. At the same time, higher fuel costs drive consumers to search for more energy-efficient lifestyles. While the demand remains for highly skilled electrical contractors, you need to stay on top of these changes to keep your pricing competitive yet profitable.
Unfortunately, transportation will likely remain your greatest extra expense throughout most of the year. Ships waiting to unload their cargo along the California coast and bottlenecks in warehousing are two of the largest domestic supply chain issues, and they are aggravated by increasing labor shortages. The U.S. Department of Labor's Bureau of Labor Statistics shows a steady increase in the number of job openings in the transportation, warehousing, and utility industries.
A growing shortage of truck drivers shows no signs of slowing down. Industry experts estimate a shortage of approximately 80,000 drivers, which is expected to double by 2030 despite wage increases at five times their historical averages. Baby Boomers reaching retirement age contribute to this shortage, as does a lack of younger workers willing to enter the industry.
For you, these conditions combine to form the perfect storm for obtaining parts and supplies. Assuming that your items reach the United States, they may be held up at the port. Once they are offloaded, they may encounter further delays at a warehouse. Then, when they are finally ready to reach your doorstep, the trucking shortage may further delay their arrival. Anticipate these delays when quoting your jobs.
However, these transportation issues will not last forever. The White House recently released its Plan to Revitalize American Manufacturing and Secure Critical Supply Chains in 2022. The plan emphasizes rebuilding domestic manufacturing and leveraging federal spending to improve transportation concerns. Strengthened Buy American provisions support increased American manufacturing, thereby shortening supply chains and easing the burden on the transportation sector. The Department of Energy will focus on domestic production in the solar and transformer industries.
While supply chain issues may inflate your prices for the remainder of 2022, the new federal policies should ease those concerns while placing greater emphasis on training more highly skilled electricians.
In the meantime, experts recommend that you stock up on items with high price increases, such as panels. When bidding on a job, add 10%-15% to your normal price schedule to keep your company profitable. Finally, limit your price guarantee to 30 days, which can give you a buffer against unexpected price increases.
Raiven helps you to win the pricing game
As an individual electrical contractor, it is hard for you to achieve the buying power of larger companies. What if you could combine your purchasing power with that of other electrical contractors to gain an advantage?
That is exactly what Raiven allows you to do! Through the Raiven Marketplace, our members see savings ranging from 7%-25% off the materials and products routinely purchased – wire, conduit, breakers, panels, charging stations, battery storage, tools, and more. With our aggregated buying power of over $250M, we negotiate with suppliers to get these deep discounts for you. Industry-leading suppliers such as Graybar, Grainger, HD Supply, Sunbelt Rentals, FedEx, Office Depot and more are all available to you.
While you focus on recruiting and training your new electricians, Raiven will focus on negotiating and managing your supplier network.
Raiven saves you both time and money by helping you purchase more efficiently. Visit our website or give us a call! We are happy to help you with your procurement needs.