­­­An EV Charging Strategy for Multifamily Property Owners Reduces Risks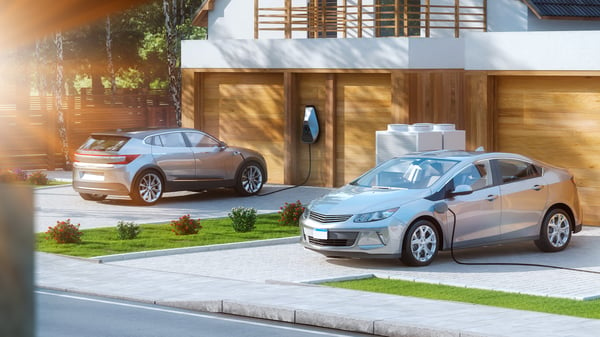 4 MIN. READ
Multifamily property owners can safely provide a valuable new amenity to their tenants — electric vehicle (EV) charging stations. Find out how to carry out an EV charging strategy that allows you to offer this perk without exceeding your risk tolerance.
Executive Summary
Multifamily property owners understand that tenant loyalty only extends as far as tenant amenities meet expectations. This article explores EV charger installation as a valuable amenity to your property and how a clear EV charging strategy will minimize your associated risks.
Adding benefits while reducing risks
For multifamily property owners, EV charging station installation offers current and prospective tenants a valuable amenity. However, as with any new service, it carries both risks and benefits. A proactive EV charging strategy protects you while providing a lasting convenience to your tenants.
Know your building codes
The federal government provides broad strokes for EV charger installation but leaves it up to individual states and municipalities to implement safety features through local building codes. Most existing multifamily properties lack the appropriate electrical load capacity, breaker panel amps, and infrastructure to support 240V EV chargers (Level 2) so upgrades are likely needed unless you only offer 110-volt charging.
Multifamily properties and commercial properties must meet minimum guidelines. Therefore, you need to allocate 5% of the total spaces for EV charging in parking areas with more than ten parking spaces.
Additionally, the Fair Housing Act requires that at least 2% of all parking spaces be on a wheelchair-accessible route. Combine these requirements to determine the total number and placement of EV parking spaces.
Remember, the federal regulations are a bare minimum. Look to your state and municipal codes to ensure that you are meeting their requirements.
Safety precautions are essential to an overall EV charging strategy
Most existing construction was not built to handle the additional load of Level 2 EV charging stations. One way to circumvent a costly re-wiring of your multifamily property is to prepare an energy management plan for the property.
Your maintenance technician can determine the maximum kilowatt (kW) rating for your building. Your electricity supplier knows your peak usage. If you decide on the standard commercial EV charging station installation, your building's usage will exceed its capability, creating a hazard for your staff and tenants.
When you implement an energy management plan that includes a centralized and flexible EV charging system, you can control EV charging by limiting it to off-peak hours. As most tenants charge their cars at night when other electricity usage is low, this plan offers a manageable and safe way to provide EV charging as an amenity to your tenants.
Another solution is to install a UL-listed, solid-state digital circuit breaker housed in a centralized smart panel. The panel itself can be installed in a central electrical location or mounted outdoors, as it is weather-proofed. Individual pedestals installed at the designated parking spaces contain the junction box.
You could also choose a simple EV charging solution that requires no additional electrical capacity. Depending on the size of your property and the needs of your tenants, you may find a simple solution is best.
Theft, vandalism, and conflict
EV charging stations are subject to theft, vandalism, and conflict, like any other amenity. Security precautions are essential to your EV charging strategy to mitigate these issues.
Cameras: Obvious, working security cameras deter theft and vandalism to a degree. At the very least, they make it easier to catch a thief after they have made off with your cable or your unit. A professional thief will go to great lengths to obscure facial features and elude capture.
Cybersecurity: A particular type of theft and vandalism occurs in the cybersecurity realm. Weaknesses in the software that tracks residents' electrical usage open the door for serious hackers. Once a hacker cracks the software, they can gain valuable credit card information regarding your tenants. Therefore, always keep your software upgraded and employ rigorous cybersecurity precautions to protect your property and residents.
Assigned EV Charging Stations: Conflict can arise from any new situation presented to large multifamily property tenants. Unfortunately, the installation of a commercial EV charging station is no different.
The easiest course of action is to treat assigned EV parking as you would any other amenity, such as a penthouse apartment. As the property owner, you can settle any disputes by charging more for the privilege of assigned parking. Tenants with EVs bear the cost of allotted parking, while tenants without EVs need not pay for an amenity that they will not use.
Manage expectations
The multifamily property owner/tenant relationship is built on trust, as with any relationship. You trust your tenants to live up to the rental agreement. Your tenants trust you to live up to your responsibility to provide a safe, clean, and fully functional property.
Education and promotion are crucial to developing this relationship and should be essential in your EV charging strategy. For example, show new tenants how to use EV charging stations efficiently. Hold several tenant meetings for interested residents. Promote the convenience of this new service to increase tenant buy-in.
After the initial training and live demos, provide detailed information sheets that tenants can take home to reinforce proper EV charging station usage. Ensure that you and your staff are on hand to answer any questions.
Some service disruptions are simply beyond your control. For instance, severe weather or rolling blackouts can create power outages. In addition, EV charging stations require maintenance and periodic repair. Try to inform any affected tenants about problems right away to prevent conflict later.
Raiven helps mitigate your risks
Your EV charging strategy will require the proper EV charging equipment, parts, and supplies. Raiven has an extensive network of the top suppliers in EV charging at the best prices.
Raiven serves multifamily properties and property owners by providing the lowest prices on equipment, parts, and maintenance supplies as well as a purchasing platform that makes buying fast and efficient. Key benefits include:
Pre-negotiated discounts of 7-25%+ from big name suppliers like HD Supply, Ferguson, Grainger, Graybar, Office Depot, and more.
Supply chain alerts for price and product availability changes on the items that matter to you most.
Private marketplace houses all your preferred suppliers in one location for easy access to your discounts. No more bouncing around websites comparing prices.
AI-powered purchasing tools that find the lowest prices even when employees shop outside your preferred suppliers.
Raiven is your one stop to save time and money. Ask our clients Lyon Living, Core Realty, or Oaks Property Management what we've done for them. Visit Raiven to learn what we can do for you.
If you need your EV charging stations installed, be sure to visit Qmerit, the nationwide leader in electrification solutions.