How Smart Systems and Connectivity Are Changing HVAC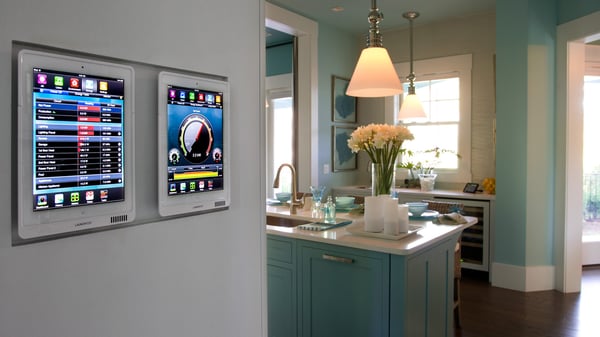 4 MIN. READ
As people spend more time at home, the quest for convenience and comfort speeds up all home automation trends, HVAC included.
Smart devices are everywhere, and innovations to the Internet of Things (IoT) show where the HVAC industry is going within the next few years. We can expect added focus on smart HVAC as people lean into automation to simplify and improve their lives.
Our lives, devices, and buildings are connecting
The way people and devices interact is changing. The internet allows for seamless and instant connections between devices and humans, and for device-to-device communication to exist. A network of connected devices linked via the internet enable users to set parameters and settings for their devices to follow. This can be done remotely, which produces more efficient operations.
Understanding smart HVAC systems and connected devices
The term "smart home" is becoming increasingly popular. So, it is crucial to understand what it means. Simply put, a smart home is a dwelling enabled with Wi-Fi via the internet. It has connected devices, appliances, and electronic devices that communicate within that network. For example, a thermostat connected to the internet can be controlled via a smartphone, tablet, or computer.
Increasing trends for home and business automation
The IoT has become a phenomenon, and there are an estimated 10 billion connected and active IoT devices. This shows the popularity of smart devices and how they can be incorporated into homes and businesses. These trends show no signs of slowing down, and we can expect further growth in this sector.
Some trends to keep an eye on include:
Smart security systems.

This business area is growing at a rapid rate. By 2023 it will make up around 25%

of the smart home market.

Smart thermostats. These devices dominate in smart HVAC and represent billions of dollars for this sector.
The smart home industry presents vast opportunities for homeowners and property owners alike to improve conditions and appliance performance, while saving money via efficient operations.
Smart homes are becoming more mainstream
Placement of smart thermostats within homes is becoming commonplace. The Nest thermostat is a popular device that allows users to set temperatures and monitor conditions within a home. This can be done from wherever you have an internet connection, even overseas.
Examples of smart HVAC
As the smart HVAC sector evolves, systems will get smarter, more efficient, and widely available for the masses.
Here are several examples of smart HVAC devices and appliances:
Thermostats. These are the dominant devices in this industry. They are readily available, simple to install, and relatively affordable. Most major thermostat manufacturers have their own kind of smart thermostats. New and improved generations of models are gradually being introduced to the market.
Humidifiers. Newer to the industry, smart humidifiers are gaining momentum in the IAQ (indoor air quality) space. These devices can monitor humidity levels within a space and activate when humidity needs to increase (dry and cold climates) or when humidity needs to be removed (wet and moist areas).
Sensors and vents. Smart vents can actuate via sensors. Sensors embedded within the device or in space will determine if there is activity. If not, they can close to save on energy or open to keep occupants comfortable.
WiFi A/C and controls. Some devices within homes that are non-smart still have life left in them. Stand-alone A/C units can be connected with controls that make them smart. Instead of upgrading the units, you can install connected controls to operate and monitor the units.
Window treatments. One may not think of window treatments as part of smart HVAC, but they do play an important role. Regulating solar load and heat loss is essential, and window treatments can help with this. Closing shades when the solar load is detected can help conserve energy in the summer and keep cold out in the winter.
Mobile apps. There is a myriad of mobile apps that provide access and control for smart HVAC devices and systems. They can be downloaded to any mobile device. This allows for instant access and control of your connected HVAC devices and appliances.
Smart systems are here to stay, and they significantly impact the HVAC industry. As your business navigates this space, it is crucial to partner with a company to assist you in this thriving sector.
Raiven has solutions
As your business ramps up to compete in the smart HVAC space, Raiven can provide your employees with an online marketplace to access to thousands of smart products and other HVAC supplies to establish your business as a local market leader.
If you want to save time and resources, Raiven can help you get pre-negotiated discounts of 7-25% on HVAC equipment, parts, and materials from industry-leading suppliers, including Carrier Enterprise, Ferguson, Graybar, Grainger, and Koch Filter. For more information, contact Raiven today.