Improve Your Operating Results with Greater Client Insights
3 MIN. READ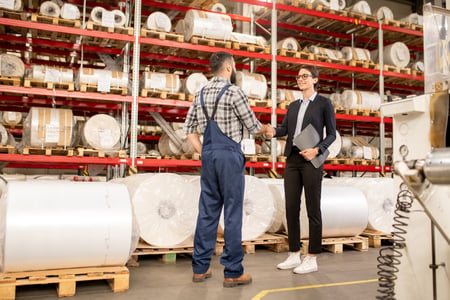 As a supplier, you are always looking for ways to improve your operating results.
You work hard to develop client relationships and try to obtain long-term contracts whenever possible, but still, your sales are dwindling.
You know that your customers are not purchasing as much of your product as they had in years past. You also know that your product beats most of your competitors' prices with similar or better quality. So what happened to your sole source contract?

Remote workers and airline industry trends - and COVID-19's impact on each - are possible culprits. One industry bright spot is in janitorial services.
Remote workers
Purchasing office supplies used to be so simple. Everything was handled by the office manager. He or she knew which contracted vendor to use for which supplies.

Now that many office workers are remote workers due to the pandemic, purchasing office supplies becomes more complicated. While some companies provide remote workers the office supplies they need, others do not.

To remedy this situation, suppliers should rely on their relationships with their customers. Contact the company to ask whether the contract could be altered so that you can ship supplies directly to the remote workers.

The remote workers will be happy to no longer have to purchase their own supplies. The company will be happy to have one less concern. And you will be happy because your office supply contract will return to normal purchasing levels.
Airline industry trends
Particularly in the airline industry, MRO suppliers are in for a turbulent ride. At the beginning of the pandemic, all non-essential travel was canceled, leaving airlines stranded.

Even though air travel has resumed, the industry is still under tremendous pressure. Business travelers, traditionally the backbone of the industry, are still mostly sidelined. Even holiday travel is not coming close to reaching normal levels.

As such, the airline industry needs less of its MRO suppliers. Fewer flights result in less maintenance, repair and operations.

One area in which some suppliers may be able to recoup losses is in sanitation. While fewer flights are operating, sanitation services for those flights are in high demand.
Janitorial services
Janitorial service suppliers benefit from the current pandemic. Airlines, retailers, grocery stores and restaurants - those industries permitted at least partial opening - have driven an average 75% increase in demand for janitorial service suppliers.

One caveat for suppliers - you are now considered front-line workers in the battle against COVID-19. Make sure that your team, equipment and supplies are able to meet the increased demand both from new customers and current customers demanding higher levels of sanitation.
Respond to the unpredictable
While it is impossible to plan for all contingencies, especially something as wide-spread as the COVID-19 pandemic, it is possible to gain valuable industry insights.

Increased market visibility to ensure that your products and services are front and center would greatly enhance your ability to close contracts, ensure even smaller purchases and improve your operating results.

A side-by-side comparison of your products and services every time a client or potential client searches for your industry would be invaluable to your company. Data analytics regarding your client purchasing trends, especially in the current uncertain environment, would also help you grow your current client spend and attract new customers.
---
Article Sources:

https://spend.lac-group.com/blog/remote-work-affecting-office-supply-market/

https://www.oliverwyman.com/content/dam/oliver-wyman/v2/profiles/TNS/Fleet_MRO_Forecast_2020-2020_COVID_impact_Update.pdf

https://fundbox.com/blog/covid-19-janitorial-demand-rise/

https://www.qmerit.com/suppliers