Making Your Multi-Family Properties Green and Sustainable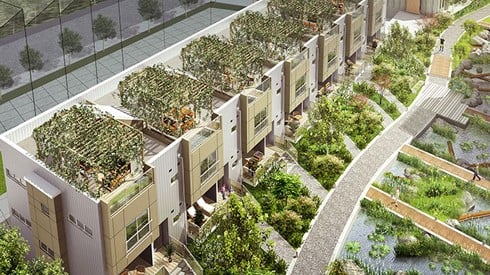 4 MIN. READ
The world is becoming more eco-friendly every day. Multi-family property managers who want to attract earth-conscious tenants should consider how sustainable their properties are. Fortunately, renewable energy and other opportunities abound for multi-family property managers.
Executive summary
By making your multi-family property more sustainable, you can benefit the environment, attract tenants, and boost your property's value. You can make sustainable upgrades to the building itself, but also to the way it operates and serves tenants.
Why upgrade your multi-family property now?
One side effect of the recent COVID-19 pandemic is that younger people searching for an apartment or townhouse have far greater awareness of their carbon footprint than previous generations. Not only do they want to reduce their carbon footprint, but they are willing to pay more for the satisfaction of doing so.
Given this fact, if you are a multi-family building manager, sustainability should be at the top of your list when considering renovations. The U.S. Green Building Council notes that the amount of sustainable housing has increased by 19% since 2017. The S&P 500 notes that 200 of its participating companies that were identified as "leaders in managing climate risk" outperformed other companies by a margin of 33%.
Going green not only attracts new residents but can increase your profit margins and ROI. Yes, sustainable multi-family properties can save up to 60% on their energy costs! Newer, more efficient electric heating and cooling systems and appliances, combined with sustainable electricity from solar make going green a moneymaker for multi-family buildings.
What sustainable upgrades can you make soon?
As residents leave and you refresh the housing unit, use eco-friendly paints with low or zero VOCs to improve indoor air quality. Install energy-efficient appliances and plumbing, and low-flow toilets and showerheads.
Invest in technology for your sustainable multi-family buildings. Smart thermostats give residents more control over their utility bills. Consider installing solar panels with a complementary battery unit. New residents appreciate your consideration of their desire to reduce their carbon footprint
Even your landscaping can become more sustainable and money-saving. Your landscaping should take advantage of the natural environment. If you have low areas that hold water, plant weeping willows or other plants that require large amounts of water. These trees will keep the water away from your building and provide a beautiful, shaded environment for your residents. Depending on your environment, consider low-water-usage plants such as conifers or other native plants.
While you are considering your landscaping, remember your roof! Your roofing materials play an important part in the sustainability of your multi-family housing. If your building faces south, take advantage of solar panels. South-facing rooftops receive sunlight all day long. Not only will you save on energy costs, but your prospective tenants will appreciate your green energy solution.
Even if your building is not conducive to solar panels, the roofing materials themselves can show your concern for the environment. Rooftop gardens give your residents a quiet oasis in an otherwise hectic life. More than that, they absorb rainwater, preventing it from overflowing storm drains, and they contribute to the air quality. Unlike traditional roofs that reflect heat back into the ozone, green roofs convert your city's carbon dioxide into oxygen, making the planet that much healthier for everyone.
What else can you do to attract residents?
In keeping with the improvements to your building, remember that eco-minded tenants like to see sustainable amenities in their multi-family dwellings.
If your community does not already offer a recycling program, consider starting one for your building. It is a simple thing to do, and your tenants will appreciate your thoughtfulness. Set aside a portion of the parking garage. Partition it into broad categories such as furniture, cardboard, glass, and plastics. Depending on the size of your building, delegate an employee to take the separated recyclable items to your county recycling facility.
Another eco-friendly idea depends on your location and the layout of your city. Set aside some of your parking garage as a bike storage facility. For residents who can ride to work or those who simply ride for exercise, this concept is especially valuable. Larger cities may even offer bike-sharing stations. Install a station at your building. Residents can access the bikes through a credit card or an app, ride the bike to their destination and park it at another station. A Washington, D.C., study notes that bike-sharing programs increase the economic prosperity of a city, so if your city does not already have one, you can demonstrate your commitment to sustainability by lobbying your city council to consider the concept.
Add EV charging stations. The electrical vehicles market is growing exponentially and offering EV charging to tenants will set your property apart and draw in eco-friendly tenants. There are a variety of options and products for EV charging and important factors to consider during planning. Working with an industry leader such as Qmerit can ensure you get the best advice possible.
How will you finance these sustainable upgrades?
On average, multi-family buildings waste 30% of their energy consumption. All of that wasted money can be recouped within a few years with eco-friendly updates. And the savings continue for many years. Also, many couples, families, and individuals are willing to pay higher rent to live in a building whose owners care about the environment.
Raiven offers a wide range of procurement services that help you keep the cost of your upgrades manageable while obtaining high-quality products. Maintenance, repair, and operation services fall under Raiven's umbrella. Raiven's procurement platform provides many other opportunities for you to easily raise the roof on your building's green initiatives. Whether you are looking for less caustic cleaning supplies or caulk to seal your windows for greater energy efficiency, Raiven is ready to partner with you in your commitment to sustainable multi-family dwellings.
Contact Raiven today to start saving on all your procurement needs, manage your supply chain, and get tips for making your multi-family unit greener.