Opportunities For Multi-Family EV Charging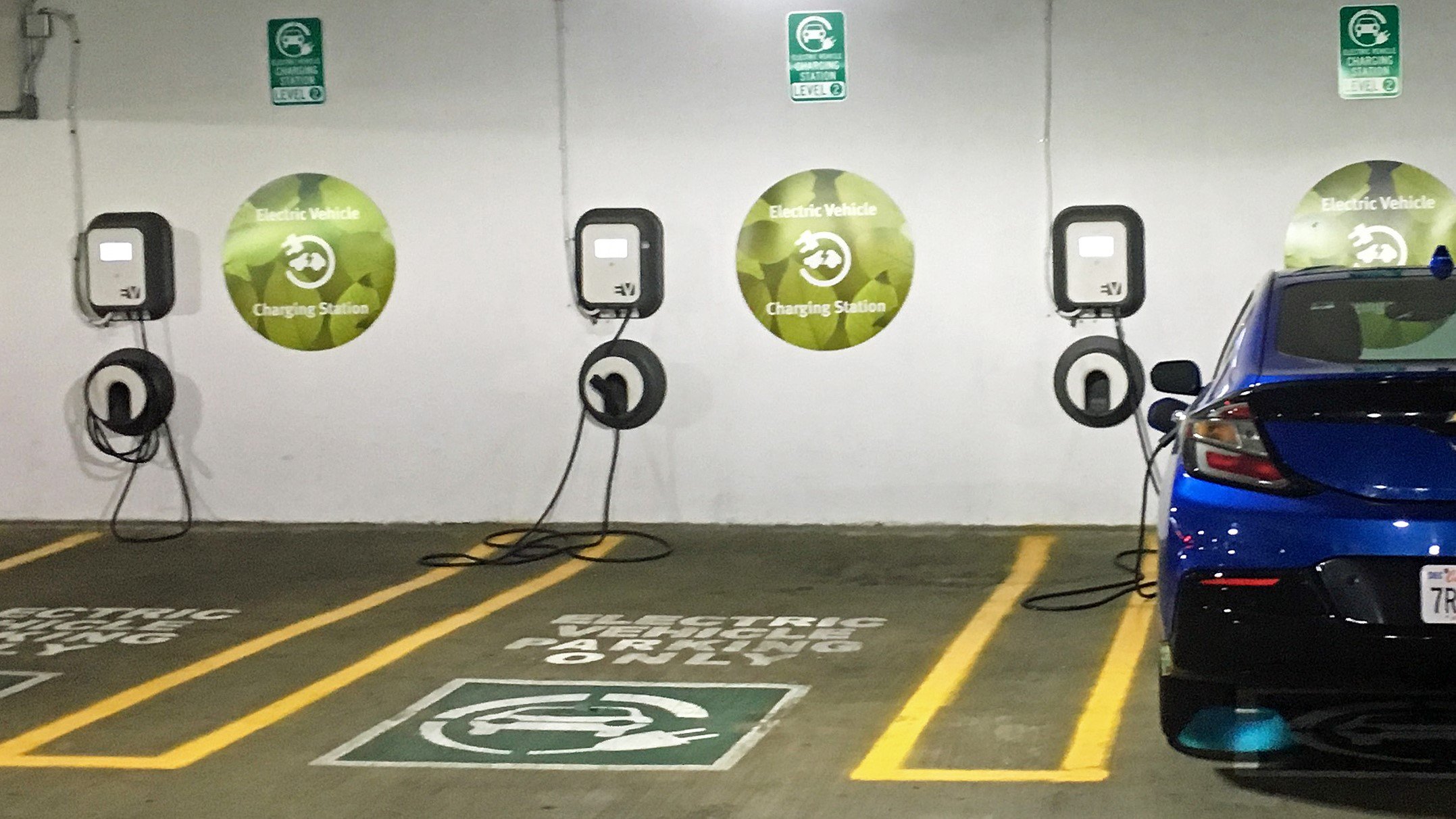 Multi-Family Properties: Electrification Series Part 2
Opportunities For Multi-Family EV Charging
5 MIN. READ
The future is all-electric - and the evidence is undeniable. Announcements of commitments to zero carbon and a full transition to electric vehicles (EVs) within the next several years, from governments to major auto manufacturers, continue to multiply What does this mean for multi-family property managers, and how can you take advantage of the trends like multi-family EV charging?
Find out in this continuation of our electrification series.
The rise of the electric vehicle
EVs are undeniably on the upswing. There are approximately 26,000 charging stations in the US today, but recently, President Biden called for 500,000 more. Further, he set a goal calling for 50% of US vehicles sold to be EVs of one type or the other within the decade. GM and Ford have also committed to having 40-50% of their sales be for EVs by 2030.
As a result, by 2030, 125 million EV drivers are expected to be on US roads, driving heavy demand for charging stations.
Especially telling is the influx of investment capital into EVs. Approximately $28 billion poured in for 2020 alone. In addition, the recently passed Infrastructure Bill provides another $7.5 billion in grants for charging stations.
Globally, the EV market is expected to reach a value of $2,495.4 billion by 2027, according to a study by Meticulous Research. That is a 33.6% cumulative growth rate from 2020 levels.
EVs are only one initiative among many
EVs coexist with a number of other prominent sustainability initiatives. Key examples include:
Electrification: The movement away from fossil fuels, enabling conversion to renewable sources.

Renewable energy sources, including solar, wind and geothermal.

Corporate net-zero emissions as well as negative carbon pledges.

The rise of microgrids: Self-sustaining sites or geographies that run on their own renewable energy sources and are independent of the greater power grids. Notably, microgrids are seen as an opportunity to power charging stations without further loading the greater power grids.

Overall reduction of energy consumption with LEED certification of buildings, LED lighting, etc.
EVs, electrification and infrastructure changes
Publicly available charging stations today have the disadvantage of long recharge times relative to gasoline refueling. While refilling a gas tank takes perhaps 3-5 minutes, EV recharging per 100 miles of range can take anywhere from 6 minutes to 26 hours depending on the charging equipment used. Thus, practicality drives the use of at-home charging.
First, here is a brief rundown of charger levels:
Level 1 – 120V AC circuit (standard household), 2-5 miles per hour speed.

Level 2 – 208/240V AC dedicated circuit, 10-60 miles per hour speed.

Level 3 – 400-900V DC dedicated feed, 180-240 miles per hour mile speed.
Some Level 3 chargers can cost tens of thousands of dollars, and because of the high voltage direct current required, they are impractical for home use. On the other end of the spectrum, Level 1 chargers just take too long.
Level 2 chargers, at a fraction of Level 3 cost, and with a reasonable charging speed, offer the best overall home solution. Thus, charging at home overnight with a Level 2 charger overcomes (to some extent) poor public charging infrastructure. As a result, about 80% of EV charging happens at home.
An increase in at-home fleets
Many companies provide corporate cars to their employees and are increasingly turning to EVs for these fleets. As a result, at-home fleets of light-duty vehicles are becoming more common since it is convenient for employees to charge the vehicles at home at night. An increased demand for at-home charging systems follows.
The multi-family EV charging station installation context
Multi-family tenants will be switching to EVs, and it is not just an upper-class trend
Multi-family tenants are a largely untapped, but inevitable, market for EVs. A powerful example is EV-friendly California, where 50% of the population lives in multi-tenant housing.
Price premiums for EVs over gas-powered ones have an impact on buyers' profiles, but there is downward pressure on cost. The government just approved the Biden Administration's proposal to increase federal tax credits from $7,500 to $12,500. California's Clean Vehicle Rebate Project offers rebates on EVs up to $7,000. Overall, 47 states offer financial incentives for various types of EV purchases.
On top of the effects of subsidies, a 2021 working paper by the International Council on Clean Transportation predicts that technological innovation (particularly in battery technology), economies of scale in higher production and supplier competition will gradually erode the EV price premium over time.
In short, demand for multi-family EV charging will grow.
Hurdles for multi-family EV charging stations
The physical diversity of multi-family tenant housing - varying age, size and infrastructure - poses issues that can be unique for each property. Among the issues are:
Electrical capacity and distribution infrastructure - utility feeds, voltage levels, switchgear and distribution panels.

Conversion from natural gas to electric appliances (electrification).

Space for new equipment and charging stations.

Outdated parking lot structures.
The first step is to define the desired state for the property. How many stations do you want to provide? What type of chargers?
Then do a complete evaluation of your current situation, followed by an assessment of the work required to get your property to the desired state.
As a multi-family tenant property manager or owner, you may not have the technical expertise to evaluate the current situation and required changes and costs, which may be substantial. It is important that you work with a partner who not only is an expert in electrical construction (a licensed electrical contractor) but also who has experience in EV charging.
Additionally, make sure you work closely with your local utility from the start, since they will likely offer advice and may even finance necessary costs. Involve the relevant city and state bodies from the beginning for the same reason and to ensure smooth permitting. Your electrical contractor will play an important role here.
Another way to approach a multi-family EV charging project is to enlist a company like Qmerit, a leader in the field of electrification and EV charging stations. They have the first and only network of electrification experts, have completed 10,000 installations and offer 25 years of experience in the US and Canada. With their deep expertise and resources, Qmerit can help you with the heavy lifting needed in evaluating and converting your site.
The economics and the opportunities
Depending on the gap between your existing conditions and desired state, there may be substantial costs. As mentioned though, seek financial aid from your local utility (as the site will generate more revenue for them) as well as the city, state and federal governments for cash subsidies or tax benefits.
Once you get to the bottom-line net investment, you have some financial questions to explore:
Can you/will you offer charging as a no-cost amenity for competitive marketing advantage?

Will you charge a fee for the services to recover costs only?

Will you build a profit center based on a cost-plus model?
The substantial cost savings of at-home EV charging over gasoline fill-ups (about $900 per year on average) may give you a strong basis to charge a fee for EV charging. Convenience is another major selling point.
In summary, multi-family EV charging is poised for substantial growth. But the field is complex and evolving.
To effectively mine the opportunities to establish a competitive edge for your properties, or even better, to increase revenue streams and NOI, you may benefit from expert help. With unique expertise and service offerings, Qmerit can help you navigate your way through the transition to EV success.
For more information on how we can help you set up an EV charging solution with Qmerit, contact us today. And don't forget to check out part 3 of our electrification series to learn more about multi-family EV charging as a revenue source!