Procurement Optimization for Renovations and Maintenance of Multifamily Properties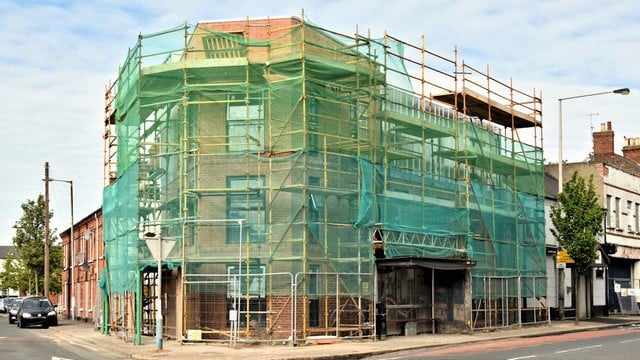 4 MIN. READ
At some point, owners of multifamily properties will face the choice of renovating or maintaining their property and equipment. This decision should not be a hasty one. Thoroughly examining the property and evaluating assets should be a comprehensive process. Utilizing a method of procurement optimization can help make your decision easier.
Maintain or renovate: a model for decision-making
First, procurement optimization is crucial for success. Before you launch any initiatives, make sure that you are buying equipment, parts and supplies at the best possible prices, with the least possible effort and time.
These days, procurement optimization is difficult to achieve without using technology and software because inflation is driving prices up and supply chains are still stressed so inventory can be hard to find.
If your procurement processes are not where you want them to be, Raiven has the tools you need to get there and execute your projects.
You can use a solid decision process model like the one below to reach sound decisions.
First things first: conduct a market study on your property
Thoroughly inspect your property and compare it to nearby competing properties. Consider the apartments themselves, exteriors, roof, HVAC, appliances, common areas, swimming pool and other amenities. Then perform a market study to determine the rents that comparable properties in your area are charging. Some sources for this information include:
Maintain it
If your property is in good condition compared to the competition, and your systems have substantial remaining useful life, the prudent choice is to maintain it properly. So, be sure to review your maintenance contractors' performance and prices. Then, rebid contracts as needed. Again, competition brings transparency and better service performance.
It pays to implement regular maintenance schedules to minimize resident disruption. It is also good marketing to inform residents of the maintenance you are routinely performing so they are aware of your quality operations.
If there are aspects of your property that are not in good condition against comparable local properties, you will need to consider renovation.
Renovate it
If you determine that renovation is best, you will need to develop a program of renovations. But, again, use the market analysis to determine where you need to upgrade.
Consider revenue-enhancing amenities
Since it pays to be proactive, consider adding amenities like electric vehicle (EV) charging stations. Multifamily charging stations will be a growth area in the coming years. Convenience and potential cost savings vs. gasoline may create a revenue opportunity for property owners and attract new residents who own EVs. In addition, fresh paint, carpeting, countertops, and appliances can likewise justify higher rents. All of these steps will add value to your property.
Determine the costs of renovation
Since the financial risks are high, accuracy is crucial. Therefore, determine the needed scope of work and get competitive bids from several contractors. Provide the bidders with detailed, precise specifications along with drawings if the work is complex.
It is also essential to take the time to qualify contractors in your area with successful track records on multifamily projects.
Determine the project's return on investment
As you are well aware, return on investment (ROI) is everything in multifamily properties. In addition, a compelling, accurate analysis will be crucial to obtain any required financing.
Accordingly, refer to your market analysis to determine the additional rent you will be able to charge. Then use the cost estimates to calculate the ROI on the required investment.
For example, suppose you plan to renovate 200 units and raise the rent on each one by $150 per month. The estimated cost of the renovations is $500,000.
Additional annual net revenue from project = 200*$150*12 = $360,000
ROI = annual net revenue/project cost = $360,000/$500,000 = 72%
Based on the analysis, this is a significant investment.
Make a go/no go decision based on ROI and value calculation
If your ROI is negative, remodeling is not a viable option. The payback period, based on ROI, is a simple rule of thumb to use. Calculate the payback period as follows: Project cost/Annual net revenue from the project.
In the case above, the payback period would be $500,000/$360,000 = 1.39 years. While there is no fixed number, the shorter the payback period, the better the investment. In the example above, 1.39 years is a significant payback.
Communication is key
Whatever you decide to do, be sure to communicate your plans to your residents. Emphasize to them the benefits of a structured maintenance program and the value of renovations and new amenities. In addition, keep them informed about project progress and steps you are taking to minimize inconvenience.
How Raiven can help
Raiven has several ROI-enhancing ways to help you lower your costs with renovations and maintenance. Together, they help you achieve procurement optimization.
Pre-negotiated discounts

— due to Raiven's buying power, you can receive deep discounts on appliances

, HVAC equipment, and supplies from premier suppliers like Carrier, Ferguson, HD Supply, Office Depot, and more. Raiven saves you time and money by managing, vetting and negotiating with suppliers in advance so you know exactly what your costs will be.

Raiven Marketplace

— This easy-to-use cloud-based software platform

automates the process of buying equipment, parts, and supplies. You and your employees can go to one location to buy from a multitude of suppliers and manufacturers. You can eliminate paper, spreadsheets and shopping the web for best prices. Your bid documents will be standardized and automated. With Marketplace, procurement optimization is at your users' fingertips.
Position your properties for ROI growth with Raiven
Time is money. Set the stage now for success. Optimize your procurement process to be ready to execute maintenance improvements and renovation projects efficiently and effectively.
Let Raiven help you maximize your ROI. Contact Raiven today for more information or a demonstration.