4 Tips for More Effective Supplier Contract Negotiations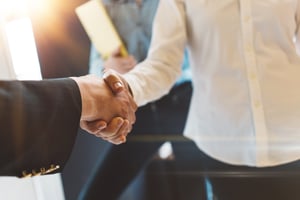 How can your business reduce costs associated with building maintenance?
One of the most important factors in skillful contract negotiation is obtaining the biggest discounts possible. If you're a building owner, this not only reduces your expenses, it also increases your building's market value. If you're a property manager, these savings will not only make the building owner happy but some of these cost savings might be passed along to tenants or residents.
A win-win, right?
Unfortunately, it's not always that simple. Negotiations are often neglected because time and resources are scarce. As a result, we at Raiven have seen companies paying 8% to 32% percent more than they could be.
So, how can your company maximize the effectiveness of your negotiations? Here are four factors that we think are vitally important to consider.
Aggregated spend
If you run a small- to mid-sized company, it's a sad business reality that you simply don't have a lot of leverage when it comes to negotiating. However, if you become part of a buying cooperative, you can leverage the power of their aggregated purchases and pay significantly less for parts and materials. Even large companies are often surprised by just how much their discounts increase once they become part of the right cooperative.
Constant Negotiation
We get it. Hardly any companies have the resources needed for perpetual negotiation. However, frequent negotiations are very important for a couple of reasons.
First, dynamic pricing means that the cost or sell price of items change all the time. For that reason, it's crucial to protect your business by ensuring your purchases are made using contracted pricing. The second reason may seem obvious, but is often lost in the day-to-day shuffle: it's crucial to have the right items under contract. After all, a company's purchases tend to change every few months as needs and preferences shift. For example, if your business switches to a new type of printer and your contract doesn't cover the new printer cartridges, you're losing money until someone renegotiates that item into the agreement.
In our conversations with customers, we find most procurement departments lack the resources to negotiate more frequently than every 3-4 years. Ideally, you should be reviewing discounts at least every 6-12 months to see the most significant and continual savings.
Consider Tariffs
Trade tariffs on Chinese goods add yet another layer of unpredictability to an already complicated process. However, as of January 2019, companies were already starting to feel the burn of tariffs instituted the year before.
Many companies knew there would be some effect but were surprised to see the far-reaching effects on their bottom lines. At least 30,000 parts and commonly used imported supplies found at MRO suppliers such as Grainger, MSC, and HD Supply saw price increases of approximately 15-30 percent.
The takeaway? To come out on top during negotiations, make sure your suppliers are agile enough to accommodate shifts in an especially volatile marketplace. Look for suppliers who have a strategy in place, as well as a track record of pivoting quickly.
Price Auditing
Let's say that, theoretically, your company has negotiated the best possible discount and has, say, 70 percent of your purchases under contract. (You're way ahead in this hypothetical game!) Are you monitoring purchases to ensure you're actually getting those hard-earned discounts? Most organizations don't have the time to monitor this important—and often overlooked step. While this isn't actually part of the negotiation process, all of your discussions are for naught if suppliers don't meet your agreed-upon prices.
The solution? If you're fortunate and have extra heads in your budget, you can devote someone to this job when negotiations are complete. Another alternative is working with a managed service who consistently focuses on supplier relationships.
If you're looking for these types of solutions, Raiven can help with bringing order to supply chain chaos! We offer a free turnkey service that provides perpetual negotiation with suppliers, allowing us to get the best pricing by leveraging our clients' aggregated buying power. In addition to ongoing supplier negotiations, we offer account management, compliance, adoption, and an easy-to-use eProcurement platform that ensures you are receiving the best value on all items from suppliers. Together, we make the workplace work – more efficient at reduced expenses.
If you'd like to learn more, please give us a call or send us an email! We'd be happy to discuss how we can help you solve your procurement problems.