Attracting Millennials and Generation Z to HVAC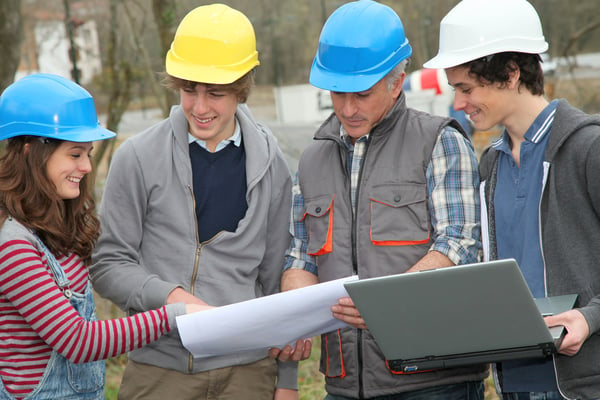 5 MIN. READ
The aging workforce has been a challenge for HVAC contractors for almost a decade now, and it became far more painful during the pandemic and the Great Resignation.
Now is the time to make the necessary changes to modernize your practice and attract millennials to support your business as the market strives to recover.
HVAC's aging workforce
The Air Conditioning Contractors of America estimates that the average age of an HVAC worker is 55. However, no "younger generation" of workers exists to replace these retiring Baby Boomers. Some estimates place the shortfall of qualified HVAC workers at more than 115,000 individuals by 2022.
Currently, millennials occupy about 35% of the U.S. workforce. With a population of approximately 71 million, millennials will become the largest workforce by 2025. They are better educated than any other generation, with nearly 40% of millennials holding at least a bachelor's degree.
So, why are millions of well-educated young men and women not beating down the doors of the HVAC sector for jobs?
Lack of exposure to modern manufacturing
Baby Boomers came of age at a time when manufacturing jobs were among the highest-paid. A high school graduate could expect to take a job on the factory floor and earn a decent living with benefits and a pension. He or she could raise a family, help send the kids to college and retire comfortably.
Unfortunately, the college-educated children of Baby Boomers came to view manufacturing as a dirty, dark, and dank place to work with little intellectual stimulation and even less room for advancement. Nothing could be further from the truth. In fact, many manufacturing jobs require education beyond a bachelor's degree. As for the atmosphere, many companies, especially those in the health care and air quality arenas, are cleaner than a normal office space.
This outdated view of manufacturing roles does not align with millennial employment goals. Millennials value a work/life balance over a life-long career of shift work. They are not afraid to express this discontent with their feet. In fact, Gen Z and millennials lead the pack when it comes to the national quitting spree. Nearly 77% of Gen Z are actively looking for other employment within the next year.
Pandemic impacts employment
The continuing Covid-19 pandemic has led to an all-time low in the labor force participation rate. Some of the unemployment is due to the fact that many jobs have disappeared due to technology and other factors.
One over-riding factor is the balance between the desire to work and the desire for quality of life. If your HVAC company has not yet implemented adequate safety protocols, millennials or Gen X individuals may not apply.
Work/life balance is clearly a priority for millennials. If they don't have childcare, they can't come to work. Consider offering childcare as a perk. Millennials will appreciate the fact that, as an employer, you show care about them and their children.
The value millennials bring to your HVAC company
Millennials are well-versed in technology, having grown up with smartphones and iPads. HVAC is becoming more technology-dependent, making millennials a perfect fit for the job.
Millennials are also interested in helping others and excel in customer service jobs. As HVAC contractors, they can see first-hand how their work makes the lives of their customers easier and more comfortable.
But if your new millennial employee's interests lie in a combination of customer service and technology, he or she could work delivering email campaigns, designing material for your website, or creating blog posts.
Millennials make excellent Human Resources personnel as well. Such careers fulfill the desire to help others. They would delight in writing your HVAC company's mission statement and core values. More importantly, they can convey these values to the rest of the company through social media and other electronic media.
Reaching millennials and Gen X
Many millennials were raised in households where college was the only acceptable answer. Unfortunately, many of them found themselves with overwhelming student loan debt, few job prospects and little chance of reaching the American Dream. Your job is to educate them that they can have it all — a good-paying job, a company that is as vested in their success as they are, and a career with a purpose.
One issue of particular importance to millennials is a company's carbon footprint as well as their own impact on the environment. Show everyone how your company's installation quality of energy-efficient HVAC systems not only reduces a home or building's carbon footprint but also improves the indoor air quality and comfort. HVAC companies make a huge difference!
Retaining millennials and Gen X
According to the Manufacturing Institute, job satisfaction (83%) and job security (79%) are top drivers for retention. Younger workers also cited training and career opportunities as the key reason to remain with a company (69% of employees under age 25).
Gen Z and millennials are not randomly switching careers because they are bored. They are searching for a job that provides meaning to their work hours.
Unlike older generations where a job put food on the table and life had meaning, younger generations want a seamless blending of the two. They also want an employer who is as willing to invest in them as they are in the company.
While this may seem like a "wish list" to older employers, it is an invaluable tool in recruiting and keeping younger employees in the HVAC industry. It is far more cost-effective to retain an employee than it is to advertise, interview, hire and train a new employee. Shift your company to accommodate the millennial "wish list," and you will reap as many benefits as do your new employees.
The HVAC sector provides you the opportunity to invest in millennial educational interests. As millennial employees gain new skills and certifications, your company can increase their pay. An engaged employee gains knowledge, skills and the security of working for a company that invests in his or her future.
How Raiven can help
As the owner of an HVAC company, you already have enough on your plate. You manage payroll, hiring, company-wide policy and industry trends. You manage every crisis that comes your way from COVID to worker shortages.
Let Raiven ease some of your stress by managing your manufacturer and distributor negotiations. Raiven can help you receive pre-negotiated discounts of 7-25% on HVAC equipment, parts and materials from industry-leading suppliers like Carrier Enterprise, Ferguson, Graybar, Grainger, and more.
Raiven's Marketplace saves your employees time and money by providing one location for them to find and purchase products quickly and easily.
Raiven's digital buying assistant automatically finds products that are available and at the lowest price from our industry-leading suppliers and provides a comprehensive set of analytical tools and reports at your disposal.
Contact Raiven today so that you can concentrate on the HVAC industry of tomorrow.