Multi-Family Trends and Top 10 Cities To Watch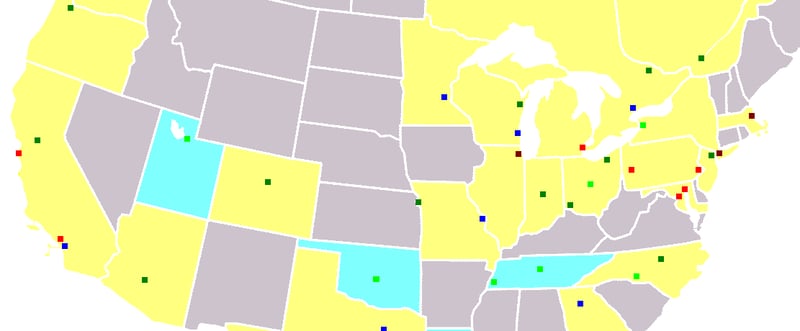 3 MIN. READ
Post-pandemic recovery is occurring faster in some states and markets than in others. Whether you already manage properties in these places or are just looking to enter the market, it is valuable to know where growth occurs so you can invest resources into upgrades and buildings accordingly. Keep up on multi-family trends so you can have the most relevant information if and when you plan to make investments in particular geographic areas.
Multi-family trends: Top cities and markets to watch
Recovery after the pandemic has hit cities and metropolitan areas in different ways and at different paces. Certain cities were dealt crippling blows and are being slowly revived while others have had quicker recovery dynamics. Below are some key cities to keep your eyes on.
Austin, TX
Nestled in the middle of Texas, Austin has a burgeoning tech scene and a growing population. Tech giants like Google, Apple, and Amazon have a big presence in the city, which is a draw for people seeking employment. These same folks will likely need places to live, so the multi-family market is a good space to be in.
Charlotte, NC
Charlotte is a big financial center in the south. It has a strong rental market with rising rent growth. Year over year growth (YOY) rose to 2.2% in late 2020 and the occupancy rate is around 95%. This market is poised for continued growth with a growing population and relative affordability, which makes it a prime choice.
Atlanta, GA
Atlanta is a bustling metropolis with a large population, one of the busiest international airports, and a high concentration of institutions of higher learning in the area. This city is a market on the move and could be a city where investors can make big gains.
Columbus, OH
Columbus remains one of the most stable markets in the Midwest. It is going through a development phase with several projects on the horizon. Ohio State University is an anchor that provides stability and investors will enjoy relative stability and growth in the area.
Salt Lake City, UT
With steady population growth, low unemployment, and low vacancy rates, this market should be on your watch list for multi-family trends. This area can offer reliable and stable growth for the keen investor or developer.
Nashville, TN
Keep your eye on Nashville. This tourist hub is bound to bounce back from the COVID-19 restrictions. It remains a top tourist attraction and with the coming expansion of the airport, multi-family activity will intensify in the area. Rents continue to grow at 4% YOY.
Boston, MA
Known for some of the best universities in the world, Boston is a strong market that uses its many institutions as a strategic advantage. Multi-family properties will have a good pool of renters to draw upon.
Tampa, FL
Tampa's strong population growth coupled with favorable weather and a business-friendly environment makes the city an appealing location for multi-family property investors. The lack of a state income tax is another attraction for this area.
Phoenix, AZ
Rising rents and steady occupancy are the hallmarks of the Phoenix market. Growth dipped during the pandemic, but the city is seeing a rebound with growth rates around 4.3%. Occupancy remains strong at over 95% and Phoenix is a top city for relocation. When it comes to watching multi-family trends, this is a prime area in the western part of the country that should be on the top of everyone's list.
Denver, CO
Good quality of life, outdoor activities, and a strong tech scene make Denver a top choice for multi-family investing. As a rising 18-hour city, this city is a good choice for relocation and for population growth. Rents and occupancy remain high and should continue to rise.
Monitor these multi-family trends
These ten cities are a good place to start for those who are monitoring multi-family trends. Each has its own unique appeal along with shared qualities that make them potentially good cities in which to purchase multi-family properties or build new developments.
Cities with the ability to attract new residents and employers tend to fare well when it comes to multi-family investments. A steady stream of new residents who can find good employment in an area that has a wide variety of attractions is a good bet for investors and developers.
Following these multi-family trends and understanding the ancillary business can help you bring your existing properties up to par or help you save on operating costs as you manage your portfolios.
Raiven has options for multi-family owners
Raiven can help you optimize purchasing and procurement, as well as supply chain management, for new and existing multi-family property projects.
Raiven's online marketplace offers a wide selection of multi-family supplies from HD Supply, Home Depot, Ferguson and other industry-leading suppliers around the country. By negotiating low prices, Raiven ensures that you get the best possible deals and terms when sourcing the supplies you need for your multifamily portfolio.
To find out how Raiven can help you save money, reach out today.