The Secret to Cutting Your Procurement Costs in Half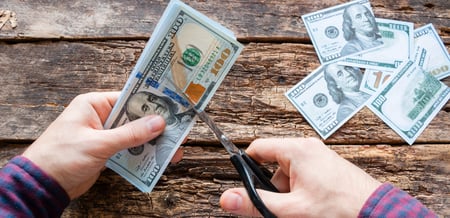 What's the challenge?

The number one problem for most companies' maintenance, repair, and operations (MRO) procurement programs boils down to this: employees just don't use them.

As a result, many companies are missing out on an estimated 50 percent of savings in procurement costs.

There are three major reasons enforcing compliance (aka buying only from suppliers with negotiated discounts) is so tough:
Employees have ingrained shopping habits and preferences

Most procurement platforms are not user-friendly

Employees are not aware of pre-negotiated discounts at preferred suppliers
Procurement systems are generally difficult to both use and navigate, while employees are accustomed to one-click shopping for their personal purchases. They don't want to use complex systems and don't understand why—in this day and age—they would need to.
What's the solution?

Procurement programs are much more effective when they work with employees' natural habits.

Attempts to change employee habits are almost always futile. While switching to a more user-friendly platform may seem like an obstacle, it's usually much more efficient than trying to force—or even incentivize—employees to use a platform that feels unnatural and difficult.

That's why procurement programs must create a "path of least resistance" to maximize adoption and compliance.

Let's face it: the easier a platform is to use, the more likely your employees are to use it. If your employees avoid a platform, maverick spend happens – they buy from non-contracted suppliers and all your hard work is squandered.

Need another reason a user-friendly platform is important? To optimize savings, any negotiated discounts and system you use should be extended to your service providers. This is an important—yet often overlooked and untapped—source of savings. Just think of how many parts, materials and supplies are being purchased by your service providers for your properties, marked up, and then invoiced to you. Since they don't have significant buying power, they pay more and then you pay more.

How to Implement the Solution

So how can you tap into an increase in procurement program compliance and see those big financial savings? Choose a marketplace that adapts to each buyer based on their shopping habits.

For example, say an employee prefers to search for items like ladders on Home Depot, a non-contracted supplier. When the employee finds the item they're looking for, an optimized procurement platform should generate a popup that reveals that there is a lower-priced version of the item available from one of your contracted suppliers. Clicking on this popup would allow the item to be added to a universal cart (rather than checking out through the Home Depot site). This allows buyers to comparison shop while using their preferred website and allows them to make the lowest-cost purchases from multiple sites with a single transaction.

This is compliance made easy! Instead of forcing employees to use a limited procurement system, they can search for supplies on their favorite supplier website and let technology behind the scenes find the contracted supplier with the lowest total cost for the item.

Keep in mind, however, this marketplace should only surface results from suppliers with which discounted procurement contracts have been pre-negotiated. This limits employees' purchasing options to those that will optimize savings for the company.

While it's certainly still possible for buyers to make purchases outside the platform, with this type of marketplace, leadership can easily track metrics and review analytics based on purchase histories, including when the popup is ignored. This provides valuable insights into what functionality is and is not being utilized, how it is being used, what is being purchased, which vendors are used most, etc. All this information can be leveraged to not only streamline purchasing but also optimize procurement efforts across the organization. Analytics may even serve as an incentive for various employees or departments to comply with the procurement program.

Why Ensuring Compliance with a Procurement Program Is Critical

Remember, if employees aren't complying with negotiated discounts and you aren't extending these discounts to your service providers, your company is missing out on up to 50% of potential savings.

That's why it's so important to tailor your procurement platform to make it modern and user-friendly.

Raiven's MRO Marketplace was created with all these factors in mind. To find out more about how it works, read our interview in CIO Review breaking down potential savings.