The Ultimate Guide to Winning More HVAC Contracts With the Help of Purchasing Management Software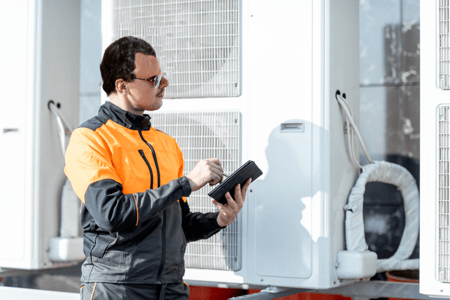 10 MIN. READ
With the many bidders who are courting a few selective and informed potential customers, the HVAC business is competitive. As a contractor, you have to be nimble and flexible while presenting your best bid forward. You have to win new bids to stay in business, but what can you do if you are constantly bidding but never winning? Here are some tips to help you win more HVAC contracts and how purchasing management software can help.
Critique your competition
Understanding your competition is critically important. The more you understand about their core business, the better, so be sure to do your research.
Are they a new contractor in the area? Do they have the manpower or bandwidth to compete in your region, or are they a behemoth in the area and consistently winning jobs? This information is essential to document when you get ready to bid on projects because it will give you insight into whether you should bid or pass.
Do not bid on every job
If you have done your research, you will have some good insight on how to bid, and you may realize that sometimes it may not make sense to bid on every job that emerges. It might seem counterintuitive, but bidding on every job takes time and valuable resources.
Your time is money, and filling out RFPs, driving to the site and walking it is time-consuming (not to mention the opportunity cost). Always ask yourself, when I am pursuing a bid, am I neglecting other customers?
However, do not take this tip the wrong way. If you believe the pay-off will be worth it, then bid on the project and go all in. This is time to show your potential clients how you can help save them money. Here would be a great opportunity to explain that your purchasing management platform is key to saving them supply costs.
Build true relationships
This is advice for all aspects of life and definitely in business because all businesses are people-centered. So, build relationships to ensure you create a connection with the right networks.
Some of your best customers will be those who you have nurtured a relationship with over time, so even if you do not win every bid, keep that relationship and connection alive. Business is cyclical, and contracts have specific and complicated terms. Keep in front of potential leads, especially the ones you lost.
Stay connected via social media, and stay relevant and recognizable in your field. Show them that you are an expert and that the tools you have can save them money.
Remember, you should do this every day, not just during bid season. After all, a big Rolodex and established trust with principal decision-makers will pay you big gains.
It is essential to be genuine in forging these relationships. Trying to shmooze or patronize late in the game will get you nowhere. People can recognize a fake a mile away, so be sure you are true to yourself when conducting all avenues of business.
Network, network, network
This can be time-consuming and sometimes inconvenient, but you have to put yourself out there. Visit tradeshows and industry events - you never know who you will run into.
When you meet a potential decision-maker, connect on a one-on-one basis. Sell yourself, your knowledge, experience and your company's services - just do not be pushy or aggressive. New leads and opportunities are everywhere, so be prepared when the opportunity arises.
Control costs
Being transparent on pricing will go a long way in achieving customer respect. Clients do not like disguised costs, so always be upfront. Purchasing management will help you win bids, and it will allow you to pass supply savings to your customer.
Raiven Marketplace (formerly Qmerit) reinforces transparency and gives you, the contractor, a pricing advantage. Show your customers that they can save 20% or more on supplies through your guaranteed low pricing marketplace. Establish that you will always have access to the best pricing possible and how those savings can be extended to your customer.
Raiven works as a browser extension and compares and aggregates supply costs from different vendors from several sites. Its pop-up feature alerts you when there is a cheaper alternative from one of your approved suppliers, giving you consistent access to the best pricing possible. (This will also help you control rogue spending!)
These savings will make a difference when bidding for jobs, and it shows your customer that you are thinking of every possible angle to save them money. Essentially, proper purchasing management gives you more margin for labor costs without high costs. Hammer this point home.
Focus on the details
When the opportunity to bid presents itself, do your due diligence by ascertaining exactly what the client is asking you to accomplish. Go line by line and break down each part of the bid with precise instructions and details. Be meticulous in your response - as they say, Dot your I's and cross your T's.
Now is also a good time to reinforce the ROI you offer through your purchasing management system. As a contractor, when you save money when purchasing supplies, your customer will see those savings too.
Remember that technology is your friend
Time is of the essence during bids, and considering that there are lots of details to fill in, use technology to your advantage. As a start, streamline and optimize your purchasing management system.
Raiven delivers this easily and packs all the necessary tools into one system at your disposal. Raiven's software will dramatically reduce the legwork you have when bidding. The digital platform will help you accumulate information and compile the details in a systematic manner, enabling you to disseminate the bid information out expediently.
It allows you to upload documents such as licenses, insurance, and price lists and submit them promptly. When creating your supply list, the software will find the lowest possible products from multiple vendors, ensuring you and the client the best deal.
Remember, bids are like sales leads
Treat each bid opportunity as a sales lead. It can take numerous leads before a deal is executed, so look for leads everywhere. Talk about your business and the advantages you offer to anyone who will listen.
It is your obligation to position you and your business in front of customers. Business does not always come beating at your door - you have to pursue it.
When you get a bid lead, be sure to:
Nurture it.

Communicate effectively.

Be personable. People like doing business with people they like.

Be punctual.

Do what you say you will.
Finally (this should go without saying), follow up on leads. Many contractors give up after one follow-up attempt. Instead, remind the customer that you are there to help by giving them valuable information and proving that you care. Even if you do not win that bid, remember to maintain that relationship for future pursuit too.
Be confident and kind
Confidence breeds success. After all, no one likes a sore loser or someone who swims in self-pity. You will not win all bid projects, but be prepared to.
While you need to walk the fine line of being confident over being cocky, your mindset should be that you will win each bid you take. If you have this attitude, you may be surprised with how many bids you win, and your service will speak for itself.
When bidding, tell the customer what you have to offer and how your unique purchasing management system will save everyone money. Show them how it enables you to manage your subcontractors to guarantee that they stay legally compliant.
Since subcontractors play a vital role in some projects, it is important that your clients know that you vet subs via Raiven's software. You can review licenses and insurance and track their performance on jobs. This feature will distinguish you from the rest and help mitigate costly and time-consuming risks.
Edge out the competition with purchasing management
The HVAC field is cutthroat. There are new companies created every day. Stay at the head of the pack with these tips and Raiven's technology suite, which will give you an edge in the ultra-competitive and crowded environment.
Customers are the core of your business, and savvy ones are price-conscious more than ever, so remind them that you can save them money. Reach out to learn more about how Raiven's innovative technology suite can give you that advantage.
Connect with Raiven. Then go out and win those bids.