Why Are Pool Supplies Hard To Find And What You Can Do About It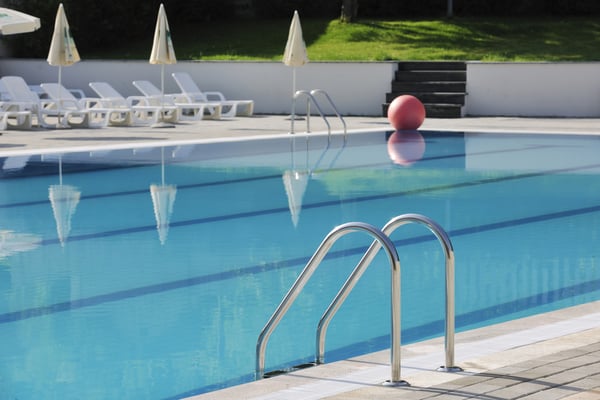 Author: Tim Moegen
September 13, 2022 - 3 MIN. READ
As the aftermath of COVID-19 continues to impact supply chains, the pool maintenance industry has been hit hard, as the primary chemicals used in treating and sanitizing pools have become increasingly expensive and harder to find.
Shortages of chemicals and supplies has made maintaining a pool challenging for multi-family property owners and managers; however, contrary to popular belief, the pandemic is not solely responsible for these shortages.
This article will cover why pool supplies are becoming increasingly hard to find and how you can combat these shortages through and optimized supply chain strategy.
Why are there supply chain delays for pool supplies?
The initial cause of these pool supply shortages can be traced back to the beginning of 2020. As the COVID-19 pandemic started to impact the world, many people changed their leisure habits. Instead of visiting public pools and community recreation centers, many homeowners opted to install a pool on their own property.
With a sudden increase in demand, pool supply and chemical manufacturers couldn't produce their products fast enough to fulfill orders accurately and on time. Essential chemicals such as chlorine tablets, pool shock, and water balancers fell three months behind on production and have yet to fully recover.
To make matters worse, two significant factory fires produced dramatic supply shocks to the chlorine tablet market in the United States.
Biolab chemical plant fire
In 2020, Hurricane Laura caused a fire that resulted in a Biolab chemical plant in Louisiana losing large amounts of chlorine. The factory produces 40% of the total chlorine tablet supply in the United States, making it one of the nation's leading suppliers.
The plant is still closed and is set to reopen in 2022, hoping to bring much-needed supply back into the pool maintenance market. However, the chemical plant has a long way to go before returning to past production levels.
Passaic, NJ factory fire
Additionally, a major fire in a New Jersey pool supplies facility resulted in the loss of over 100,000 pounds of chlorine tablets. While the building was mostly vacant, Qualco used the property to store essential chlorine utilized in the production of pool supplies and cleaners.
As of today, there are still no plans in place to reconstruct the chemical plant.
With these factories facing challenges, supply chains will continue to struggle, making it essential for cleaning crews and property owners to plan around these shortages.
How multi-family property owners should prepare for supply shortages
With a shortage of pool supplies, multi-family property owners and managers must utilize data-oriented management practices and services to anticipate future delays and demand. By monitoring usage, an owner can make cost-effective decisions that ensure there are enough pool supplies.
The pool supply shortage has caused the cost of cleaning and maintenance products to skyrocket, forcing owners and cleaners to sometimes pay more than double the pre-pandemic price. Optimizing inventory management and using sourcing analytics to track pricing and availability can help cut unnecessary costs by allowing property owners to focus on buying supplies at the ideal time and the ideal price.
By analyzing data related to past pool maintenance projects and services, a property owner can accurately predict the needs of these facilities. Sourcing relevant data can also reveal changes in pricing, which is critical in an increasingly dynamic market.
Data management is crucial for making informed decisions. Facility managers and property owners can implement supply chain risk management solutions when purchasing pool supplies, allowing them to effectively monitor changing supply and demand when making purchases and sourcing materials.
Additionally, monitoring inventory levels helps you submit a purchase order at the ideal time for suppliers. With many shortages and delays in the supply chain, leveraging data management is an essential step in ensuring maintenance remains on schedule.
Using data management to make smarter buying decisions
While chlorine tablets are an industry standard in maintaining proper chlorine levels, they aren't the only options. As property owners struggle to find supplies, many have turned to other products that provide similar results.
Some options for property owners are bromine tablets and liquid chlorine for pool maintenance. However, nothing can compete with the price and convenience of chlorine tablets for residential pools.
Along with the lower price for the supplies, the tablets require less labor for property owners compared to options like liquid chlorine. Ensuring your multi-family property has a sufficient supply of these tablets will keep building maintenance simple for property owners.
How Raiven can help simplify pool supplies procurement
Combatting supply chain shortages, such as pool supplies and chemicals, requires an optimized supply chain management strategy. Such strategies entail monitoring supply chains, predicting future trends in pricing and availability, searching for product availability, finding the best prices, negotiating discounts on common purchases, and more. But the good news is, Raiven can do all of that for you.
Raiven serves multifamily properties and property owners by providing the lowest prices on equipment, parts, and maintenance supplies as well as a purchasing platform that makes buying fast and efficient. Key benefits include:
Pre-negotiated discounts of 7-25%+ from big name suppliers like Ferguson, HD Supply, Grainger, Graybar, Office Depot, and more.
Supply chain alerts for price and product availability changes on the items that matter to you most.
Private marketplace houses all your preferred suppliers in one location for easy access to your discounts. No more bouncing around websites comparing prices.
AI-powered purchasing tools that find the lowest prices even when employees shop outside your network.
Raiven is your one stop to save time and money. Ask our clients Core Realty, Lyon Living, or Oaks Property Management what we've done for them. Visit Raiven to learn what we can do for you.
Article Sources:
https://www.usatoday.com/story/news/nation/2022/01/15/passaic-chemical-fire-11-alarm-qualco-contained-latest-updates/6539815001/
https://www.aquamagazine.com/news/article/15123549/shortage-update-chlorine-plant-being-rebuilt-due-spring-2022
https://www.bobvila.com/articles/chlorine-shortage/
https://www.nbcchicago.com/news/chlorine-shortage-could-affect-pool-season-for-a-second-straight-year/2829142/