How to Bring More Qualified Electricians into Your Contracting Business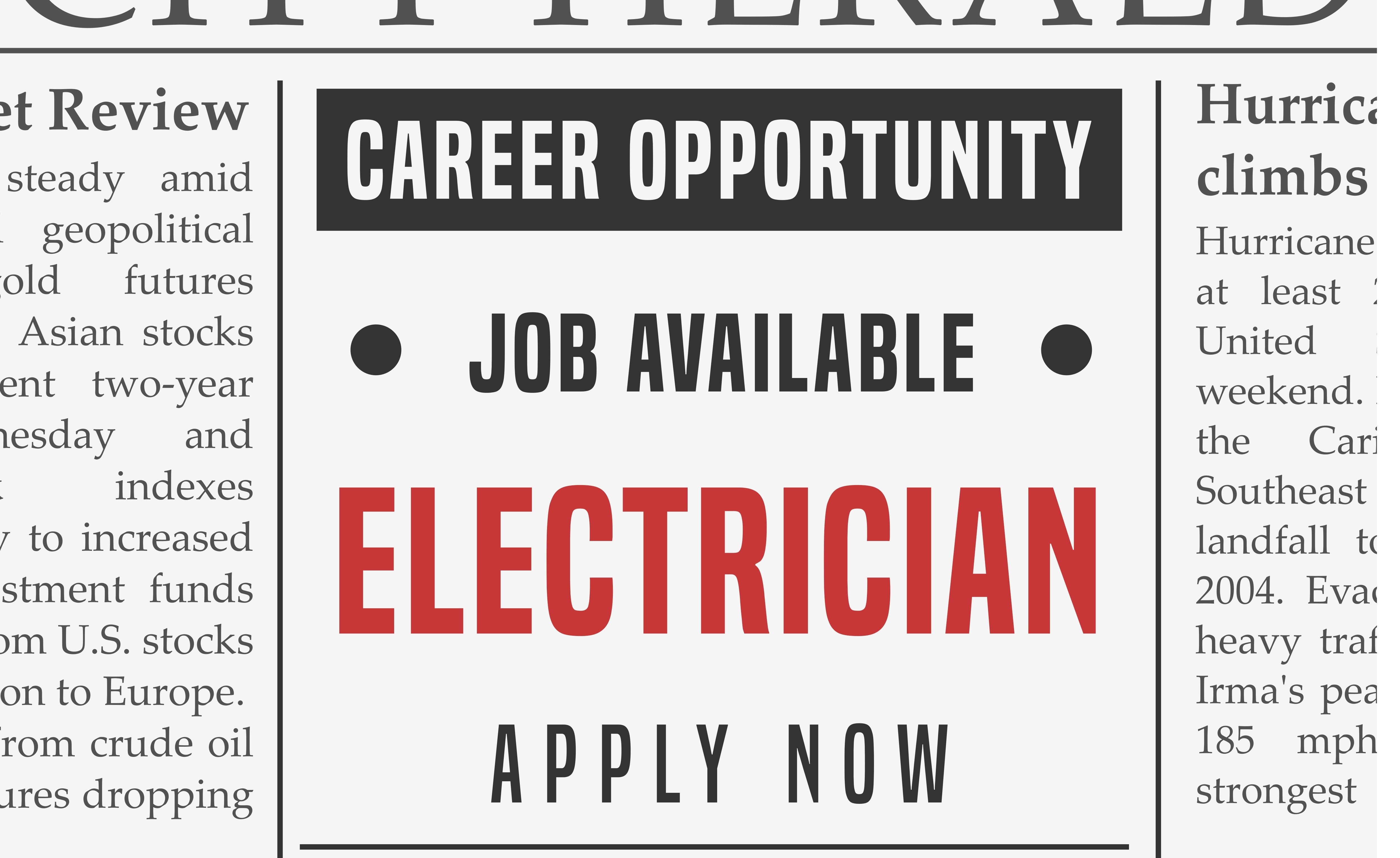 Author: Brett Knox
June 29, 2023 - 4 MIN. READ
The United States' continuing dash to electrification is being sorely hampered by the shortage of electricians, which is part of a nationwide skilled labor shortage. This dearth of qualified electricians to install and maintain EV charging stations, heat pumps, solar panels, and other green energy technologies, is increasing as demand for such skilled labor grows. The demand for skilled electrical solar installers alone is set to grow by 52%.
In addition, the U.S. Bureau of Labor Statistics (BLS) projects that demand for electricians will rise by 9.1% from 2020 to 2030. At the same time, electrician retirements increased in 2020 and 2021 due to COVID and an aging workforce. By 2030, most baby boomers will reach retirement age, further depleting the number of electricians available.
Electrical contractors are thus caught in a labor supply crunch that will not go away soon. But there are strategies you can implement to help overcome these challenges.
Finding Electrician Candidates: A Big Problem
In this new world, electrical contractors must actively recruit potential electrician candidates. Such recruiting can be done through targeted marketing and outreach efforts. One such recruiting option is providing educational information on the nature and benefits of becoming an electrician to high schools, universities, and trade schools.
For example, four significant pluses for becoming an electrician are:
Growing demand for electrician services
Substantial compensation
Opportunity to learn and work with new technologies
Option to eventually become an electrical contractor
The demand for electricians is apparent. As for compensation, the most recent BLS data show a median compensation of $60,040 for experienced electricians. The rise of electric vehicles and other green trends puts electricians at the forefront of clean electrical innovation today.
The Training Challenge: Another Hurdle
Training to become an electrician is a lengthy, rigorous process and can be costly. Who provides the training differs between the union and non-union jurisdictions. In union jurisdictions, the various local shops of the International Brotherhood of Electrical Workers (IBEW) control the collective bargaining agreements for their geographic territories. They also provide training and apprenticeships for electrician candidates. The IBEW and the National Electric Contractors Association (NECA) collaborate on training programs, which include classroom training and apprenticeships (hands-on training under the supervision of senior electricians).
In non-union areas, non-union contractors may offer apprenticeships. The Independent Electrical Contractors (IEC) and the Associated Builders and Contractors (ABC) also provide non-union electrician training programs.
In either case, apprenticeships are required to become an electrician and can last four to five years. During this time, apprentices earn an average of around $39,000, depending on where they work.
After apprentices put in their time, they can take the electrician journeyman exam and, if they pass, earn their journeyman license. The median salary for journeymen is around $66,200. From there, after putting in a certain number of years of service and passing a series of exams, they can rise to master electrician status. The median salary in the U.S. for a master electrician is $70,800. After passing the journeyman licensing exam, they can work anywhere in the United States.
The cost of training and apprenticeships varies widely depending on the training source and location. Unions and employers may jointly subsidize union programs. The cost of training can generally range from $1,000 to $11,000.
Attracting Electrician Candidates by Emphasizing Incentives
Stressing incentives like the four strong ones listed above will help attract electrician candidates. The idea of having a lucrative, rewarding career after putting in four or five "short" years of apprentice work should appeal to many. Offering to subsidize apprenticeship and training costs will add to this appeal.
One "selling point" for electrical contractors to take these actions is a requirement in the Inflation Reduction Act (IRA). Specifically, the law mandates that to qualify for the full 30% tax credit the labor force for wind and solar projects must include a minimum percentage of "qualified" apprentices – 10% in 2022 and 15% in 2023. The IRA and the Bipartisan Infrastructure Bill also include $272 million to fund job training.
To help meet training and apprenticeship costs, union contractors can contact the IBEW, and NECA. These organizations are motivated to support union participation and high-quality training.
Attracting Electrician Candidates by Creating a Positive Image
Electricians are crucial to the advance of technology. Over a century ago, they lit American cities with streetlights. They illuminated night baseball and electrified rural America. They wired data centers, leading to the proliferation of server farms for giants like Google. Now they are essential to expanding green technologies throughout the world.
Candidates should be told that the electrician trade is a proud, highly skilled, well-paid profession that can open the gateway to entrepreneurship in electrical contracting. The advantages to this career are many. Where else can you learn the requisite skills in classrooms and on the job while earning a salary? The advancements to higher compensation are rapid, and most electricians work locally, so long-distance travel is rarely required. This makes for a more stable home life. Paint this bright portrait to attract more candidates.
Attracting Electrician Candidates: An Alternative Approach
If your contracting firm is unable to invest in training for green technology installations, consider aligning with a partner like Qmerit, the installation leader in electrification technologies. By joining their Certified Installers Network, you will get licensed electricians trained in green technologies, installation and service jobs, access to a comprehensive electrification knowledgebase, and business assistance. These perks will help you jump into the green technology space faster and more profitably.
And for help reducing your project costs, contact Raiven.
Raiven Can Help
Raiven negotiates contracts with leading suppliers and manufacturers of electrification equipment and electrical supplies to ensure you are paying the lowest cost and receive priority service. Raiven also optimizes your buying process by providing a purchasing platform that makes buying fast and efficient. Key benefits include:
Pre-negotiated discounts and special pricing on thousands of SKUs that are generating average client savings of 7-25%+ from big name manufacturers and suppliers like ChargePoint, Enel X JuiceBox, Graybar, Home Depot, Lowe's, Schneider Electric, Sunbelt Rentals, and more.
Supply chain alerts for price and product availability changes on the items that matter to you most.
A private marketplace houses all your preferred suppliers in one location for easy access to your discounts. No more bouncing around websites comparing prices.
AI-powered purchasing tools that find the lowest prices even when employees shop outside your network.
Raiven is your one-stop-shop to save time and money. Visit Raiven to learn what we can do for you.