Is Your Supply Chain Robust or Bloated?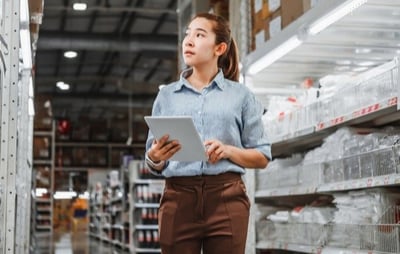 Purchasing managers know the high cost of noncompliant tail spend, but until now, the costs of tracking and combating noncompliance have often defeated the purpose. Now, with software advancement, Raiven has created a private marketplace that purchasing departments use to optimize their suppliers. Raiven Marketplace brings your suppliers under one umbrella, where purchasing agents use only approved suppliers for all major spending categories.
How to determine the correct number of suppliers for your network
Day-to-day business purchases and those made outside of ongoing purchase agreements make up a significant portion of out-of-control spending, which occurs most often when a supply chain has become bloated. Bloated supply chains follow the Pareto principal: 80% of suppliers account for just 20% of organizational spend.
When the number of suppliers can be reduced to include only ongoing purchase agreements or large negotiated contracts, a bloated supply chain can be optimized, resulting in both lower spend and enhanced efficiencies.
Often, supply chains grow too large because procurement and contract management run simultaneously in siloed systems. This decentralized process results in tail spend where rogue spending and misclassified purchases can run rampant.
Many companies identify their tail spend by determining which suppliers fall into the category of the 20% that account for 80% of organizational spend. By reducing the number of suppliers and creating a policy that deters rogue spending, procurement departments can gain control of their tail spend and enhance profit margins. An eProcurement system provides the ideal tool for enforcing spending compliance because employees must gain approval for a requisition before creating a purchase order.
eCommerce solutions also help companies reduce spot buying across all segments of the tail. In previous eras, tracking noncompliant spend was simply too time consuming to be cost effective. Now, with eCommerce solutions, data is automatically collected. Managers can then analyze this data to see whether spending compliance is being followed.
Raiven Marketplace provides purchasing departments with the ability to track and manage compliance, providing instant value.
Benefits of managing tail spend
When tail spend is efficiently managed, it can become part of a company's managed spend. Companies that use eCommerce applications to implement tail spend management programs can realize substantial savings both immediately and over time.
Raiven Marketplace offers an easy solution for purchasing departments to achieve these numbers.
Data analytics provides the edge
Streamlining processes builds efficiencies, but it's also important to work on sourcing and contracting to create a strategic purchasing program. eCommerce systems provide the metrics that help companies measure their tail spend and see the relationship between it and suppliers and contracts. Data analytics reveals important trends, such as cost reduction and avoidance, transaction costs, and spend visibility.
By using the Raiven Marketplace, companies get the data they need to gain an edge on the competition.
Incentives and the optimal number of suppliers
Firms keep tight supply chains for many reasons, including saving on setup and switching costs and guarding against opportunistic behavior from suppliers. When companies create a partnership network with suppliers, suppliers are incentivized to work closely with the buying organization in non-contracted areas, such as innovation, new technology, quality, information exchange, trust, flexibility and responsiveness. In addition, a slimmer network saves on coordination costs, allowing the buying company to spend more efficiently.
A great partnership network can be wasted if purchasing agents disregard the network and engage in maverick spending. By requiring agents to purchase from the network through an eCommerce system, managers can enforce compliance with the strategic spending plan, creating symmetry across the supply chain that enhances efficiency and guarantees quality while reducing spend.
Need to reduce a bloated supplier network? Raiven Marketplace provides an efficient supply chain to which companies can add their preferred sources.
How Raiven's eProcurement system makes managing a large network simple
Raiven provides a platform for companies to create a private marketplace, which allows them to optimize their incentivized supplier networks.
Many companies lack the resources to create and leverage a tail spend purchasing program because they have not built the infrastructure to analyze mid-tail down spending. Raiven does this for them, allowing even companies with small IT capabilities to implement sophisticated spending plans.
In addition, clients can take advantage of contracted prices within the Raiven network and import their own suppliers into the program to more easily work with the existing supply chain.
Raiven does more than provide a platform for managing supplier networks. It also provides tools that alert purchasing people when a lower cost for a certain item is available. This allows you to examine your supplier network's testing against a larger field. On average, Raiven customers save between 7% and 25% on MRO spend.
Before the technical developments of this era, tracking and managing rouge spend was a serious hassle and often not worth the effort. Now, with Raiven Marketplace, it is possible to not only manage rogue spending but also to build a stronger supplier network. When supplier networks are centralized, the entire company can purchase from trusted suppliers that are committed to contracts. The end result is higher quality sourcing, enhanced efficiency and a 7-25% reduction in MRO spend.
To join Raiven Marketplace and get started on building a stronger supplier network, contact Raiven today.