5 Procurement Best Practices for Every Company
5 MIN. READ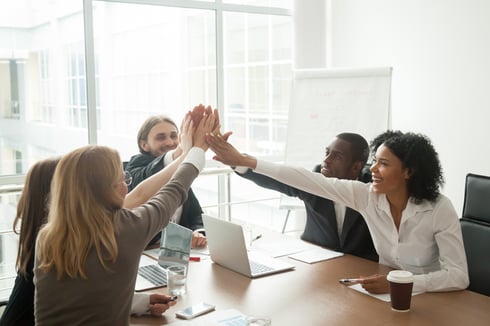 Your procurement group is more than a cost center. It's where your company gains access to the products and services that can improve profits. The way your procurement group is managed also drastically impacts the bottom line. By following these five procurement best practices, you can buy the products you need at a price that keeps margins healthy and growing.
Procurement best practices
1. Focus on team alignment
As they say, teamwork makes the dream work. A transparent process with all team members on board helps consistently maximize supply chain efficiency. Alignment between all of your human touchpoints (contractor, supplier and customer) can be achieved by confirming a general consensus and clearly defining the process. This is true whether your supply chain is centralized or managed through multiple connected business units. Regardless of your permutation, proper guidelines and a solidified strategy are vital to maintaining consistency and predictably low costs.
Staff alignment is not just limited to members understanding the procurement process or following guidelines. It also includes:
Proper training

The right number of staff for the job

Solid leadership

Accessible technical specifications

Evaluation measures

Procurement methods

Standard operating procedures
The procurement process should also be transparent from start to finish, from internal staff to qualified external suppliers.
2. Use technology wisely
Automation and data analytics help you make certain that your procurement process remains consistent and transparent. Technology offers your organization the ability to:
Eliminate areas plagued by human error

Record and review measurable performance indicators

Provide consistent evaluation criteria

Adhere to procurement processes and technical specifications

Automatically manage records

Provide data for better strategic planning

Keep up-to-date and easily accessible supplier records

Easily perform audits to review
Technology should support the system, and not vice versa. After workflows and processes are fully mapped, look for areas in which technology can produce transparency and actionable data, remove workarounds, and reduce operating costs. Understanding the analytics and regularly reviewing the metrics driven by your procurement practices can help you make better decisions moving forward. Technology can also help you understand your contract vs. non-contract spend, where you can save, who is compliant, and where performance falls short of expectations.
3. Do your market research
Conducting comprehensive market research provides your organization with benchmarks to accurately evaluate the performance of your procurement process. Market research furnishes the data necessary to appropriately set expectations and make strategic decisions that cut costs.
Competitor rates in your industry can indicate how much power of negotiation is possible in your procurement process to keep up with industry competition. Check for consistent changes in the market, major suppliers, warranties and contract practices of other comparable organizations.
4. Focus on total cost of ownership
Focusing on singular aspects of your procurement process can be detrimental to the overall financial picture. Total cost of ownership requires you to examine the complete life cycle of a purchase, including spend not under contract, vendor/contractor purchases at full retail prices, and tail spend.
Purchase price, or sunk cost, precludes long-term cost and tells only half of the story. Many other expenses can well overshadow the initial procurement estimate. Filtering down the total cost of ownership helps an organization make sound decisions about capital investments.
5. Encourage compliance
The best procurement process is useless without consistent compliance from employees, stakeholders, contractors, and customers. Educate employees, vendors, property managers, and all service providers about the procurement process. Most importantly, ensure that process adherence is measurable. This is where technology comes in. Compliance is difficult to enforce if you're unable to properly measure and communicate it.
A good price is only half the battle. Contractors and employees should be encouraged not only to find the best price, but to follow protocol and use approved suppliers whenever possible. Help encourage compliance by explaining why compliance is in everyone's best interest.
The risk of forgoing best practices
Although the status quo may be serving you, there's a good chance you're leaving significant money on the table.
Without analytics and standardized practices, you miss out on contractor management and alignment. Without market research, you lose the ability to box your spend, understand industry standards, and calibrate your expectations and associated practices. Total cost of ownership isn't factored in and can't help you make better business decisions. Time-consuming manual processes and human error persist. You miss out on the opportunity to leverage technology that can not only take on arduous tasks, but help you avoid costly mistakes.
The Raiven procurement program can help you hone in on best practices. Simultaneously, it removes the large burden of managing the smaller parts of the business, such as supplier negotiations, account management, price comparisons, market data and statistical analysis. The result? You can spend that time nurturing your customer relationships. Raiven's eProcurement platform can help you tighten up your procurement practices, save time, cut costs and turn your focus back to what matters most.
Resources: