6 Procurement Lessons from the Grocery Industry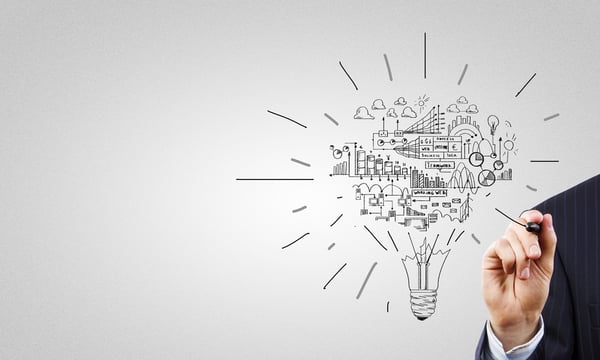 Brett Knox
Updated: August 4, 2022 - 6 MIN. READ
Strategic procurement is critical in the grocery industry. The grocery procurement process requires smart planning and flexibility to keep store shelves stocked year-round. While the industries may not be directly related, there is a lot you can learn from grocery procurement if you're a contractor, facility manager or property manager.
On the surface, you might not see much of a parallel between procurement for the grocery industry and procurement for building maintenance, repairs, and retrofits. However, if you look a little deeper, you'll soon see that both are industries that must respond to challenges quickly while operating with razor-thin margins. For example, grocery procurement faces many unique challenges—such as extremely perishable goods—that many other industries don't.
Supermarkets have learned how to stay profitable in an environment of constantly shifting consumer preferences and needs. This means procurement professionals in the grocery industry must have a robust supplier network and be able to pivot on a dime. Like building owners, facility managers, and contractors, grocery procurement executives succeed only by lowering costs and ensuring their organization's strong performance.
So, if you're a procurement executive, what can you learn from the grocery industry?
Six factors that should be monitored
1. Optimizing suppliers.
There's no doubt the grocery business has become even more cut-throat since Amazon acquired Whole Foods and price-focused German grocers Aldi and Lidl entered the US market. As a result, it will become even more important for existing grocery chains to offer the best possible deals. However, keeping prices low requires strategic planning and a strong supply network.
Grocery stores work closely with suppliers to find the optimal price for both parties. When done properly, the grocery store's customers get their favorite products at a suitable price. That means analyzing and consolidating suppliers so the remaining vendors can offer optimized pricing.
The takeaway for the building maintenance industry is that purchasing the same parts and material from numerous suppliers does not enable you to aggregate spend with fewer suppliers to achieve deeper discounts.
2. Implementing procurement across locations.
Grocery stores need to create efficient, sustainable, and replicable procurement across the entire organization—and larger chains excel at this. All grocery chains have proven procurement processes developed and perfected for smooth operation. While different locations will have different needs based on their geographic area and customer demographics, processes and procedures are standardized for maximum effectiveness.
The procurement process of grocery stores emphasizes uniform processes, which is crucial in overcoming challenges. In building and equipment maintenance, building engineers and technicians can be distributed across large geographic areas, so it's very difficult to standardize buying behaviors unless you leverage technology to optimize finding and procuring parts, control rogue spending.
When implementing procurement procedures, it's best to develop a detailed plan that covers all steps in the process. When anyone in any location receives the procurement instructions, they should be able to replicate them with minimal questions. The ideal way to create a similar procurement process is by taking inspiration from grocers. Experienced grocers have the knowledge of the purchasing process and how to reduce the chances of delays. While this seems difficult, it will simplify building maintenance procurement.
3. Cutting costs in non-traditional ways.
It's hard for grocers to save money on food because they tend to have tapped every possible avenue already. The average grocery store's profit margins are 1% to 3%. To cut costs, grocers often have to look at ways to save on décor and store services.
Whether it's adding self-checkout or narrowing product inventory, there are numerous ways to save on operating costs. The changes have minimal impact on day-to-day operation and improve profit margins. Every business has ways of cutting costs, with some being non-traditional methods that take some creativity.
Likewise, procurement for equipment, parts and materials in buildings has often been optimized on big-ticket items that make up 20% of spend. Smart contractors, building owners and property management companies can find big savings by examining the remaining 80% of spend (also known as the often-neglected mid- and tail spend). By sitting down and assessing building maintenance procurement, an executive will likely find several areas of improvement for tail spend management.
The most common building maintenance items that may be left unmanaged for tail-end spend are tools, maintenance supplies, replacement parts, and routinely purchased materials. Contractors and facility managers often forget these expenses because they are difficult to manage. Effectively managing tail-end spend requires adding a spend management system to the business. A management system will organize purchasing decisions and make the right choice for your business.
These savings can really add up over the course of a year and gives you the opportunity to increase your bottom-line. For contractors, this enables you to either be more competitive with your bids and/or increase your profit margins.
4. Utilizing technology.
Grocery stores are not often thought of as being in the vanguard of technology, but consumer demand forces them to explore shopping through websites, apps, or even outsourced personal shoppers. It's no surprise that tech giant/grocery store Amazon is the first to track supply chain transparency and food safety through blockchain technology. A grocery business can separate itself from its competitors by investing in the food industry blockchain technology.
Blockchain technology in the food industry allows suppliers and trade partners to transact in secure methods. While on the blockchain, digital transaction records improve food traceability for suppliers. This technology helps manage food safety risks and offers a smooth purchasing process.
Technology is also helping with labor costs, often the biggest expense for grocery stores, which is why self-checkout has spread so rapidly. While this cuts costs, it also allows the remaining employees to use their skills in ways that promote sales, such as customer support, prepared food chefs, and online order fulfillment staff.
Similarly, efficient procurement technology can free contractors, building engineers and technicians to spend more time maintaining equipment and keeping tenants happy. Instead of coordinating and calculating procurement data, the digital buying assistant handles most of the responsibility.
Digital buying assistants help automate the process of finding where parts and materials are in-stock at the lowest price. Saving employees a tremendous amount of time, especially during the current supply chain crisis where finding available products has been extremely difficult.
5. Outsourcing.
For the most part, grocery consumers have been reluctant to shop online or via an app but that is changing. Many still want to see and feel their food—but they also want convenience. What's a grocery store to do?
People are more willing to shop online if click-and-collect personnel fulfill their online orders, ensuring a human touch. However, this service is far too expensive for most grocery stores. Therefore, a new business model has sprung up as outside services partner with grocery stores to give customers what they want.
For example, services allow customers to text with a human being who will fulfill the order they placed online. Forget something, or are you particular about the ripeness of your tomatoes? Just text your fulfiller and get what you'd pick out yourself.
When related to building maintenance, outsourcing the supply management process helps cut costs and optimize buying. By getting the assistance of a knowledgeable team, your staff can direct their focus on other parts of their business. Like a grocery delivery service, outsourcing supplier negotiations, bid requests, and technology will save you both time and money.
It's best to work with an experienced spend management team with a background in procurement optimization. The right team can be important to your procurement and create an efficient supply chain. However, outsourcing to the wrong team can negatively impact all aspects of your building maintenance procurement.
The most important characteristics of a procurement outsourcing company are their buying power, industry experience, speed, and customer support. Industry experience is important because of all the nuances and special situations related to equipment and building maintenance. Speed is important in processing and delivering your orders because when equipment breaks down, it needs to be fixed ASAP. Lastly, customer support is important for any business, helping to solve problems quickly.
6. Leveraging Technology.
Savvy grocery store managers use software tools, technology and business intelligence tools to predict sales and make their ordering smarter. While using intelligence tools, a grocery store will also analyze inventory to look for customer demand. If a grocer is investing in inventory that isn't selling well, it's best to remove them from the shelves and shift focus. This crucial analysis helps cut expenses that don't benefit the business.
They also use eProcurement software and digital Marketplaces to make buying fast and efficient for employees. Buying via the phone, email or even faxes has proven to be very inefficient and wastes time. The grocery industry learned that years ago and completely digitized their processes.
By digitizing the buying process, its also very easy to see where money is being spent and what areas need to be optimized. Unfortunately, we've found that most procurement executives, who are squeezed for resources, don't have the bandwidth to analyze software solutions or to routinely optimize their procurement processes. However, there are experienced partners, like Raiven that help thousands of contractors, facility managers and property managers aggregate buying power and digitize operations.
For example, Raiven provides full-service analytics and group purchasing program that aggregates all of the spend of its clients and uses this buying power to negotiate deep discounts with suppliers and manufacturers. All of its members then get to leverage these discounts to reduce cost of goods sold and improve their profits.
If you want to get a handle on mid-tail, tail, and rogue spend for Maintenance, Repair, and Operations (MRO) in buildings, contact Raiven. They handle ongoing supplier negotiations, account management, compliance, adoption, and provide an Amazon-like purchasing platform that makes buying fast and easy!
If you're interested in learning more about how Raiven can help your company be as efficient as the grocery industry, Contact Raiven!



Article Sources:

https://www.marketplace.org/2022/05/13/how-do-grocery-stores-make-money-when-their-profit-margins-are-so-low/
https://www.canr.msu.edu/news/blockchain-technology-in-the-food-industry
https://www.paycor.com/resource-center/articles/closer-look-at-labor-costs/
https://www.foodlogistics.com/warehousing/grocery-retail/article/22105965/local-express-from-data-to-insights-the-value-of-data-analysis-for-grocers