EV Charging Options For Multifamily Properties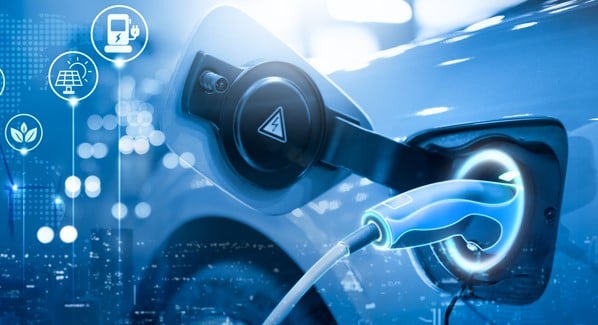 Author: Tim Moegen
Updated: January 17, 2023 - 3 MIN READ
Electric vehicles (EVs) sales are accelerating rapidly, and so is the need for EV charging stations. Property owners will need to offer multifamily EV charging capabilities on-site to attract and retain EV drivers.
Executive summary
In a competitive market, you should consider offering EV charging solutions to gain an edge in attracting and retaining residents. However, this is not a trivial undertaking. To make the best decision for your communities, you should consider your building's specific needs, the type of chargers available, and the monetary incentives available to help defray the cost.
Multi-family EV charging options
When done right, installing EV charging stations in your communities leads to happier residents, stable or increased occupancy in your communities, and an increase in your bottom line. To get there, you should consider a needs assessment.
Assessing your needs
Start by reviewing your building's current electrical capacity and infrastructure. Next, estimate your residents' potential demand. Then, you will need to determine the number of chargers required, where they will go, how residents will share access, and if you will bill residents for charging their EVs.
What are your electrical needs? — Depending on the age of your building, you may need to upgrade its electrical system to accommodate an increased load from EV charging stations. Therefore, evaluate your current capacity and estimate the difficulty and cost of any needed upgrades.
How many charging stations will you need? — First, determine how many of your residents already have EVs and consider that as your minimum. Then, given the rapid proliferation of EVs on the road, you should anticipate future needs as more residents buy EVs.
Where will you locate charging stations, and how will they be shared? — Where you put your chargers will affect your residents' convenience and usage. You will also want to think about how residents will share access. For example, will residents need to reserve a charger?
How will your residents pay for charging? — Will you offer EV charging as a free amenity? If not, how will you assess a fee?
Types of EV chargers
While there are three common types of EV chargers, only Level 1 and Level 2 stations are generally a fit for multifamily buildings. Level 3 chargers are too expensive to make financial sense for most multifamily communities.
Level 1 — Level 1 chargers use a standard 120-volt outlet, so service upgrades are typically unnecessary, but these are the slowest among EV charging options, with a charging speed of only 3 to 5 miles of range per hour.
Level 2 — Level 2 chargers are up to 10 times faster than Level 1 and can charge even a drained battery overnight. However, they are more difficult and expensive to install than Level 1 units.
What makes sense for your building? Most single-family homeowners prefer the charging speed advantage of Level 2 chargers. Your residents will likely also prefer Level 2 stations for multifamily EV charging.
Available incentives
Federal, state and local entities offer many EV charging incentives for multifamily properties, including tax breaks, credits, and rebates. These incentives can reduce installation costs and make a significant difference in the profitability of your multifamily EV charging initiative.
Tax incentives — Consult your tax professional about current rules on federal tax incentives, as some will apply to returns filed for 2021. While some incentives expired for 2022, it is worth noting that it is common for credits to renew retroactively. So keep current on the regulations and how they could benefit your communities.
Local rebates — Many local power companies and municipalities offer rebates for EV charging stations for multi-family properties. Hence, it pays to research what is available in your area. In addition, incentives often cover both equipment costs and installation costs.
LCFC credits — California and several other states offer low carbon fuel credits (LCFCs) that can offset the cost of operating EV charging stations. While still limited to a handful of locations, LCFCs can add up quickly and total thousands of dollars annually for a multifamily community. States across the U.S. and most Canadian provinces may soon offer LCFCs, so watch for them in your area.
In summary
Equipping your buildings with EV charging stations for multifamily properties is a key strategic initiative that affects your residents and your revenues. Make sure you do your research and carefully consider what chargers to install and how to configure them. In the end, providing a popular amenity that your residents will love will only increase your profits.
Raiven can help
Raiven can help bring EV charging to your multifamily communities in the most cost-efficient way possible. We provide purchasing and supply chain tools to multifamily properties, owners, and property managers that simplify the buying process and provide the best prices on EV chargers, appliances, replacement parts, and maintenance supplies. And our purchasing platform makes buying fast and efficient. Key benefits include:
Pre-negotiated discounts of 7-30%+ from big name suppliers like Ferguson, HD Supply, Grainger, Graybar, Office Depot, and more.
Supply chain alerts for price and product availability changes on the items that matter to you most.
Private marketplace houses all your preferred suppliers in one location for easy access to your discounts. No more bouncing around websites comparing prices.
AI-powered purchasing tools that find the lowest prices even when employees shop outside your network.
Raiven is your one stop to save time and money. Ask our clients Core Realty, Lyon Living, or Oaks Property Management what we've done for them. Visit Raiven to learn what we can do for you.
If you need your EV charging stations installed, be sure to visit Qmerit, the nationwide leader in electrification solutions.
Article Sources: