Is Your HVAC Business Stocked and Ready for Seasonal Change?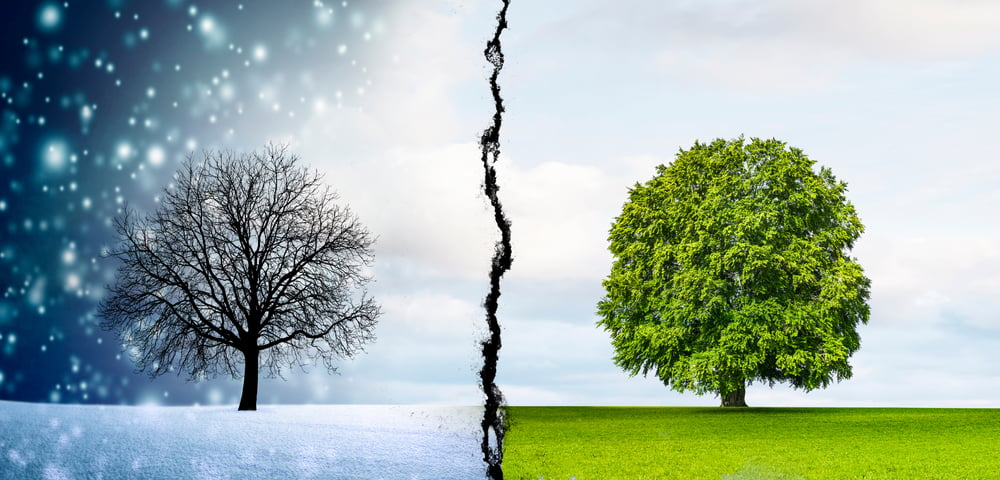 Author: Brett Knox
December 22, 2022 - 3 MIN. READ
Seasonal change is an important influence on the HVAC business, impacting your workload and your bottom line. Fine-tuning your purchasing and procurement habits to fit the season can help ensure you have the right inventory on hand and keep your business humming year-round.
Executive Summary
HVAC requirements for the winter and summer seasons are as different as night and day. You focus on heating for half the year and AC for the other, so the equipment you need and the services you provide change dramatically with the calendar. But with careful planning, you can be busy and profitable through both seasons. However, your ordering plans are the key to successfully managing seasonal change without missing a beat.
Upgrade your ordering plans to manage seasonal change
Winter inventory preparation
In the winter months, a well-functioning heating system is a must, especially in colder northern climates. With keeping your customers' homes warm and comfortable as your mission, you will need to stock the right parts, equipment and supplies to ensure you have everything you need to accomplish it.
Your ordering plans should ensure you have sufficient stocks of critical HVAC parts and supplies, including furnace filters, belts, motors, lubricants, and cleaning materials. Your inventory should also include larger equipment, such as furnaces and spare furnace components, as well as smaller electrical items, including wiring, connectors, and electrical panels.
Summer inventory preparation
When the calendar turns over to summer, the focus shifts to helping customers keep their properties and businesses cool. A fully functional AC system is essential, especially in the South and Southwestern areas of the country. As the mercury in the thermometer rises, your business will increase accordingly, so it is essential to be stocked and ready.
Your ordering plans should include the right mix of AC parts and supplies, stock filters, compressor parts, lubricants, cleaning materials and other smaller components.
You will need HVAC equipment, too, including high-rated and approved AC units, replacement compressors and key electrical components, such as breaker panels and circuit breakers.
Tools and equipment
Before a seasonal change, it is a good idea to take stock of your tools and equipment to ensure they are in good working order and ready to use. That way, you will not be caught without the tools needed for the season ahead.
Staffing levels
Your business will be naturally busier during one season or another depending on your location. In the South, temperatures are higher, making summer your peak season, and you will be busy keeping customers' AC units running. In colder climates, however, the winter months may require a greater labor force to meet your market's HVAC demands.
Your staffing requirements are higher during your peak season, making it important to plan ahead and add staff when necessary. Before a seasonal change, review your staffing levels and estimate how many people you need to manage the demand of the coming season. Doing this ahead of time allows enough time to find and hire the right people and ensure they have the parts and equipment necessary to complete jobs in a timely and cost-effective manner.
Use slower times to plan for the next season
Slow periods are an excellent time to look ahead and plan for the next change in seasons. Planning is always more productive when you are not swamped with service calls and can fully focus on the future. Include these items in your planning:
Plan for at least the first three months of the upcoming season.
Project your inventory needs and forecast your revenue levels for the season. Start with last year's purchasing data and project volume as a guide.
Review your warehousing needs and ask suppliers to hold inventory if needed.
Build new revenue sources to cover slower periods
Your business will naturally jump at the onset of a new season. A sharp temperature rise or drop makes customers instantly aware if something is amiss with their furnace or AC as urgent service requests become more frequent.
Toward the middle or end of a season, those urgent AC and furnace service calls tend to drop off and your business may slow down, presenting new challenges. So, what can you do to keep your order book full during these lulls in business? Consider these activities to boost off-season revenue.
Offer energy audits for buildings, businesses and multifamily properties.
Actively market smart systems and energy-efficient upgrades to older HVAC systems. They are popular almost any time of year.
Actively market heat pumps and electrified systems. You can educate customers on IRA and other incentives to make them more affordable.
Offer current customers discounted off-season maintenance.
Review and update your website and brand messaging
Your website and other communications can benefit from branding updates tailored to the upcoming season. You will want to focus on AC in summer and heating in winter and update your website, social media, and advertising accordingly.
Streamline your procurement with a digital platform
One of the most effective ways to prepare for a change in seasons is to optimize your purchasing processes with a digital procurement platform to make purchasing fast and efficient. A digital procurement platform, like the Raiven Marketplace,
serves HVAC and electrical contractors with the lowest prices on equipment, parts, and maintenance supplies. Key benefits include:
Pre-negotiated discounts that are generating average client savings of 7-25%+ from industry leading suppliers like Carrier, Ferguson, Grainger, Graybar, Koch Filter, and more.
Supply chain alerts for price and product availability changes on the supplies that matter to you most.
Private marketplace houses all your preferred suppliers in one location for easy access to your discounts. No more bouncing around websites comparing prices.
AI-powered purchasing tools that find the lowest prices even when employees shop outside your preferred suppliers.
Raiven is your one stop to save time and money. Visit Raiven to learn what we can do for you.