Procurement vs Purchasing-What is the difference?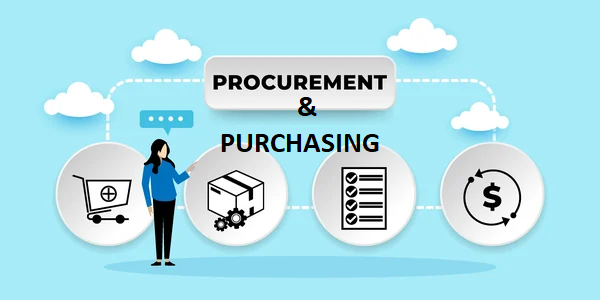 Author: Brett Knox
February 3, 2023 - 5 MIN. READ


Purchasing and Procurement are terms that are often used interchangeably. However, they are not the same thing. For the success of your business, it is important not only to know the differences but also to know how to use them to optimize procurement processes to reduce costs, maximize NOI and increase value.
In this article, we will clarify the differences, and help you to use both activities to achieve those goals.
Definitions and overviews of each
Procurement is defined as the strategic and proactive acquisition of goods and services for a company.
It is a process that includes the following key steps:
Definition of a need
Detailed analysis of spend
Qualifying suppliers
Developing a sourcing strategy
Implementing the strategy
Contract negotiations and closing
Supplier management and continuous improvement
The emphasis is on the creation of overall value for the company.
Purchasing is defined as the transactional process of buying goods and services for a company. It generally performs the following general tasks:
Receive purchase requisitions from user departments
Find an approved supplier (where applicable). These are generally provided for purchasing
Execute purchase orders (POs) manually or in the PO system according to established specifications
Receive, check, and route orders to storage or users
Perform payment to suppliers working with the accounts payable (A/P) team
Price is the key focus
Similarities and differences-procurement vs purchasing
While both processes engage in acquiring goods, procurement is strategic and a prelude to purchasing. It starts with the definition of a need (what the user needs) and then does a deep dive into the amount of spending by the subject category. The three viewpoints are:
Suppliers
Amount of spend
Time period
The result of this analysis is called the "spend cube," which gives a 3-dimensional perspective of your company's spend. It is a critical starting point for understanding the current situation.
With it, you will know where you have leverage with suppliers.
In the next steps, procurement works with your operations team to determine critical performance standards for suppliers. Examples are:
Are they tech-savvy?
Is there a particular geographic location for easy logistics?
Do they excel in performance with similar customers?
Then procurement and your operations team evaluate your current suppliers against these and other standards. Those that pass muster are eligible for consideration going forward.
In addition, procurement searches the market for competing suppliers who can also meet these requirements. Soliciting ratings from companies in your markets is usually useful, especially if you have trusted contacts.
Next, procurement develops and implements a sourcing strategy which could include re-negotiation, a competitive request for proposal (RFP), or a simple request for quote (RFQ). More complex strategies like reverse auctions can be used. Those are beyond the scope of this article.
Procurement negotiates, closes contracts with winning suppliers, and rolls out new suppliers as an organized project.
A key task in implementation is working with purchasing to set up the suppliers, contract terms, and pricing in the PO system.
At the same time, procurement sets up a vendor management program establishing key success metrics for the supplier. Procurement leads the process of collaborating with key stakeholders. The focus is on continuous improvement
Purchasing
For purchasing, the activity above is already done if there is a formal procurement function in place, or the purchasing department is simply provided with a purchase requisition that specifies what is needed, in what quantity, from which supplier, and when, along with other details. It then issues a PO.
So, what is the difference between purchasing and procurement?
Purchasing vs procurement is tactical and reactive vs. strategic and proactive.
What's more, the focus of procurement is value creation. Not only is price a factor, but so are supplier performance, service value adds, and product value engineering.
From a big-picture process view, procurement proceeds and follows purchasing.
Examples
Carpet
Let's take carpeting as an example.
Your company is renovating 5000 units this year. Assume that equates to around 6,250,000 square feet of carpeting, Assuming $3.00 per square foot, that's around a $19 million purchase.
It's been a while since you bought that much carpeting.
You have a procurement function in place.
Procurement will perform the above steps, including building your spend cube, developing and implementing a procurement strategy, negotiating and closing contracts, setting up supplier management, and updating the purchasing and A/P systems.
Purchasing will work with procurement to add the successful supplier, specs, and other requirements to the PO system, and generate a PO for the purchase.
When the carpet arrives, purchasing will perform a 3-point match of the product, quantity, and specifications, and arrange for storage.
If you do not have a procurement function in place, purchasing receives a purchase requisition, chooses from a list of approved suppliers provided by others (perhaps operations or finance), and issues a PO. Then it will perform receiving and payment.
IT hardware
Your company needs to buy 2000 laptops. Assume that is around a $2 million purchase.
You have a procurement department in place.
You have not bought hardware in three years.
Your IT Team provides the specifications.
Your procurement department will go through the procurement process, working closely with your IT team on specifications.
Procurement will update the PO system with purchasing.
Purchasing will take a purchase requisition from IT and receive and pay for the hardware.
Without procurement, purchasing will likely take the requisition from IT, issue a PO, and receive the goods.
There is another difference to note in purchasing vs. procurement.
While both functions are important, you can see that procurement processes are more data-driven, and rigorous, and create value for your company.
In both cases, you need to ensure that you are optimizing processes to extract that value.
Optimize the procurement process
Organize
It is essential that procurement and purchasing be centralized in one area since the two processes are closely related.
Be clear in writing about responsibilities and accountabilities. Communicate these to the stakeholders in the company
Digitize
Accurate, complete, and timely data is the lifeblood of procurement and purchasing. The lack of it leaves you blind about your costs. In addition, you have no leverage with suppliers. On the other hand, they will be prepared with all the data they need to negotiate from strength.
Paper records scattered in various locations, or Excel spreadsheets do not cut it. It's crucial to automate your procurement and purchasing data in one, easily accessible place.
In addition, manual purchasing processes are ineffective. These must also be automated. And it is important that your platform be as simple to use as possible. Otherwise, your employees will not use it.
The benchmark for ease of use is Amazon. Many of your employees already use it, so your platform must compare favorably.
How Raiven can help
Raiven optimizes your purchasing and supply chain management with the lowest prices on equipment, parts, and maintenance supplies as well as a purchasing platform that makes buying fast and efficient. Key benefits include:
Pre-negotiated discounts that are generating average client savings of 7-25%+ from big name suppliers like Ferguson, HD Supply, Grainger, Graybar, Office Depot, and more.
Supply chain alerts for price and product availability changes on the items that matter to you most.
Private marketplace houses all your preferred suppliers in one location for easy access to your discounts. No more bouncing around websites comparing prices.
AI-powered purchasing tools that find the lowest prices even when employees shop outside your network.
Raiven is your one stop shop to save time and money. Visit Raiven to learn what we can do for you.