2023 HVAC Regulations Create Challenges & Opportunities for HVAC Contractors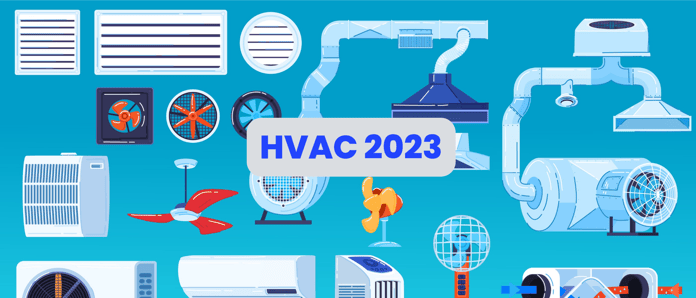 Author: Brett Knox
September 30, 2022 - 4 MIN. READ
The Department of Energy (DOE) has mandated new 2023 HVAC standards that go into effect in just a few months. These sweeping changes will affect all HVAC equipment built after January 1, 2023, and HVAC Contractors need to be ready.
Executive Summary
The 2023 HVAC standards, including the Seasonal Energy Efficiency Ratio 2 (SEER2) ratings and new refrigerant requirements, will increase the costs of new systems by 15% to 25% and significantly impact replacement strategies for your customers. As an HVAC contractor, you may find SEER2 challenging, but the new requirements will create new opportunities as well.
What is SEER2?
SEER2, or Seasonal Energy Efficiency Ratio2 is the DOE's new standard for measuring the efficiency of central air conditioning systems beginning in 2023. The new SEER2 testing procedures' objective is to consider the influence ductwork and external static pressure have on HVAC products. The current SEER rating system did not reflect real-world conditions, so SEER2 ratings will be lower than the SEER rating for the same product.
The 2023 HVAC standards focus on SEER2
The SEER2 ratings and testing procedures aim to promote efficiency and make HVAC systems more eco-friendly. At the same time, SEER2 will increase the cost of equipment and complicate replacement schedules.
SEER2 standards can vary by region of the country for some types of equipment yet are uniform across the country for others. For instance, minimum efficiency ratings for AC units will increase from 13 to 14 in the northern U.S. and from 14 to 15 in the two southern regions. For heat pumps, the minimum efficiency rating will increase from 14 to 15 nationwide.
All HVAC equipment must comply with these new standards, including split-system air conditioning units, split-system heat pumps, and packaged AC systems manufactured after January 1, 2023. However, in some regions of the country, equipment built under the old standard can still be installed after January 1, depending on the type of system and sell-through deadline in that region.
For instance, in the northern region of the U.S., newly manufactured split-system AC units that are non-SEER2 compliant can still be installed after the first of the year so long as they are built before the end of 2022. In the southwest and southeast regions, only SEER2-compliant split-system AC units can be installed after January 1, 2023.
Because minimum efficiency thresholds and sell-through dates vary from region to region, you must be aware of compliance requirements and installations in your area.
New refrigerants will become standard
In addition to SEER2 ratings and testing methods, new refrigerants will be specified for HVAC equipment under the 2023 HVAC standards. The standard refrigerant in residential AC systems since 2010 has been a hydrofluorocarbon (HFC) designated R-410a. The U.S. Environmental Protection Agency (EPA) has deemed HFCs, including R-410a, as leading contributors to global warming and is phasing them out over the next 15 years.
The new refrigerant R-454b will replace R-410a as the standard for residential AC units and will be required for all new equipment manufactured after January 1, 2023. While more eco-friendly than R-410a, R-454b costs more and is more flammable, so extra care is needed to ensure safety.
Current units running R-410a do not need to be replaced under the 2023 standards and can be used until the end of their service life. But any systems built in 2023 or later must use R-454b.
Due to variations in operating pressures, older systems running R-410a cannot be retrofitted to use R-454b. However, R-410a will be available for the foreseeable future for repair and recharge of existing units, and these systems can be used for as long as they are operational.
Win-win strategies for you and your customers
As an HVAC contractor, you will need to develop a SEER2 compliance strategy that protects both your customer and your bottom line. Variations in compliance thresholds, sell-through deadlines, and other factors will require that you do not install a non-compliant system. In addition to non-compliance, you will be faced with unneeded inventory that you cannot sell.
Make sure you know the specific regulations and deadlines for all equipment types in your region, keep a close eye on the calendar and your inventory, and review your customer list for timely upgrade opportunities. For instance, you may want to encourage some customers to replace older units before January 1 to avoid the higher cost of a newer R-454b system next year.
Raiven reduces the costs associated with the new 2023 standards
Raiven helps you take advantage of SEER2 and other 2023 HVAC standards.
Raiven serves HVAC and electrical contractors with the lowest prices on equipment, parts, and maintenance supplies as well as a purchasing platform that makes buying fast and efficient. Key benefits include:
Pre-negotiated discounts of 7-25%+ from industry leading suppliers like Carrier, Ferguson, Grainger, Graybar, Koch Filter, and more.
Supply chain alerts for price and product availability changes on the supplies that matter to you most.
Private marketplace houses all your preferred suppliers in one location for easy access to your discounts. No more bouncing around websites comparing prices.
AI-powered purchasing tools that find the lowest prices even when employees shop outside your preferred suppliers.
Raiven is your one stop to save time and money. Visit Raiven to learn what we can do for you.
Article Sources:
https://www.achrnews.com/articles/147009-whats-your-plan-for-does-2023-energy-efficiency-standards
https://www.contractingbusiness.com/contracting-business-success/article/21248126/5-steps-to-get-ahead-of-the-seer2-regulatory-changes
https://www.contractingbusiness.com/residential-hvac/article/21245297/2023-regulatory-overview-new-minimum-efficiency
https://acshvac.com/hvac-refrigerant-and-seer-changes-in-2023/